2012.11.14
Delta Rolls Out the Ultron EH Series UPS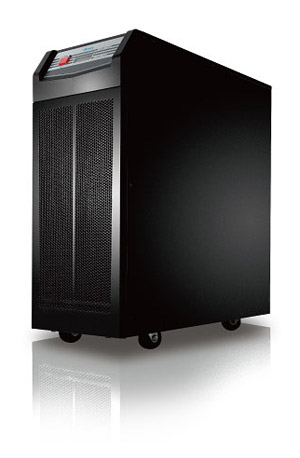 Power reliability with the best total cost of ownership
Delta Electronics, the world-leading energy saving solutions provider, today announced the roll out of the new Ultron EH Series UPS (uninterruptible power supply) to China, India, Europe, the Middle East and Africa, Russia, and South America. The Ultron EH Series, with power ratings of 10/15/20kVA, is a true online uninterruptible power supply device with three-phase four-line input and single-phase output, which can provide a reliable and stable sine wave power supply to protect mission critical applications from downtime, data loss and corruption. The Ultron EH Series UPS provides clean power supply for server rooms, communication systems, computer network systems, medical treatment systems, surveillance systems, factory equipment, and more.
"As IT applications are prevailing everywhere in the business environment, we see the customer looking for a UPS that is well-equipped with the advantages of reliability, leading technology, and best total cost of ownership (TCO) in the medium power range to protect their data and equipment from power quality problems. Most equipment is normally designed with a 1-phase input, but our Ultron EH Series has a 3-phase input 1-phase output design, which not only matches the load requirement but also simplifies power distribution from the UPS," said Dennis Lin, Director of Global Product Development of the Mission Critical Infrastructure Solutions (MCIS) business unit of Delta Electronics.
Aiming to achieve high reliability, the Ultron EH Series is designed with online double-conversion topology to completely isolate the output power from all input anomalies. It applies the latest DSP digital control technology design offering rapid computation capability to enhance system stability, and providing precise voltage to load. With a dual input design, the Ultron EH Series allows different sources of power supply, and it can perform "N+X" parallel redundancy for up to 4 units without requiring additional hardware. Even a single UPS failure won't affect the output load. The Ultron EH guarantees higher reliability to protect your critical loads.
The Ultron EH Series also features high power performance and a wide input voltage range to provide the best total cost of ownership (TCO). Power efficiency can reach 96% in ECO mode. In terms of footprint, Delta is proud to claim the Ultron EH as the most compact UPS of its kind in the market.
Boasting easy manageability, the Ultron EH Series with the latest UPS management software UPSentry 2012 & ShutdownAgent 2012 allows users to remotely monitor and manage from one to multiple UPSs through a web-based interface. It supports a storage maximum of 10,000 event logs.
Dennis Lin said, "With its outstanding features, the Ultron EH Series not only provides safe, reliable and uninterrupted power for your sensitive electronic equipment at all times, but it also delivers greater power efficiency, flexibility, and the best TCO to meet your business requirements. Delta MCIS continues to develop and provide a full range of UPSs to fulfill a variety of customer applications."
More information about Ultron EH Series UPS.
---
About Delta Group
Delta Group, founded in 1971, is the global leader in power and thermal management solutions. Delta has sales offices worldwide and manufacturing facilities in Taiwan, China, USA, Europe, Thailand, Japan, India, Mexico, and Brazil.
Our mission statement, "To provide innovative, clean and energy-efficient solutions for a better tomorrow," focuses our role in addressing key environmental issues such as global climate change. As an energy-saving solutions provider, Delta's businesses encompass power electronics, energy management, and smart green life. Delta actively promotes its own corporate brand and its brand spirit "Smarter. Greener. Together." represents high-efficiency energy-saving solutions.
Delta is widely recognized for its dedication to corporate social responsibility. In 2012 Delta was selected for two of the prestigious Dow Jones Sustainability Indexes—the DJSI World Index and the DJSI Asia/ Pacific Index—for the 2nd consecutive year. Delta was also ranked first among the 29 leading companies in the ITC Electronic Equipment sector and named as "Sector Leader" for the first time, which is major international recognition for Delta's continued commitment to corporate social responsibility and sustainability.
For more information about Delta Group, please visit: www.deltaww.com
About Delta UPS and MCIS BU
Delta's Mission Critical Infrastructure Solutions (MCIS) business unit (BU) has developed a variety of UPS solutions. Positioned as "The power behind competitiveness," the MCIS strives to play an important role in making our customers' businesses and operations more competitive. Our mission is realized by providing highly reliable and efficient power management products, including UPS and datacenter infrastructure solutions that ensure the continuity of mission critical operations and better total cost of ownership (TCO). Delta offers 4 UPS product families.
| | | | |
| --- | --- | --- | --- |
| | Power | Topology | Applications |
| Agilon | Under 1kVA | Single-Phase UPS | PC and Peripherals |
| Amplon | 1kVA or higher | Single-Phase UPS | Server and Network Equipment |
| Ultron | 15kVA or higher | Three-Phase On-line UPS | Datacenter and Industrial Equipment |
| Modulon | 20kVA or higher | Modular UPS | Modular. Unit expansion and redundant power supply can be achieved within a single rack |
More information about Delta MCIS products can be found at www.deltapowersolutions.com.