2012.12.01
Delta Rolls Out High-Efficiency UPS Ultron DPS to Strengthen Its Position as a High Performance UPS Provider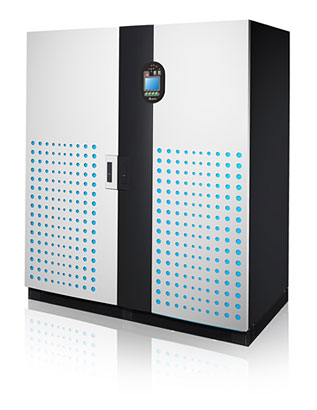 Delta Electronics, the world-leading energy saving solutions provider, announced today that it will roll out the new
Ultron DPS 300/400kVA
high performance uninterruptible power supply (UPS) on top of 160/200kVA models to China, Taiwan, EMEA, Russia, India and South America. In November 2012, Delta showcased the Ultron DPS series at the China International Industrial Fair (CIIF) and boosted its recognition in the market.
"After introducing the DPS 200kVA to the market, the Ultron DPS was very well received by customers and it is being installed to protect a wide range of mission critical applications," said Mr. Dennis Lin, Chief Engineering Officer of Delta's Mission Critical Infrastructure Solutions Business Unit (MCIS BU). "Just to name a few: It is in a leading packaging company in India to protect a printing process line; in a children's hospital in Russia to safeguard the power of its electrical treatment rooms, laboratories and drug cold storage. It has found application for the power protection of telecom infrastructure, datacenters, manufacturing, and in the manufacturing environment for solar products, bearings, and more." Mr. Lin further stated, "With the roll out of the 300/400kVA model, our Ultron DPS series ranges from 160kVA to 400kVA. Since highly efficient transfomerless UPSs is a trend in this industry, Delta is about to launch more models in this series in 2013."

According to Gartner's prediction in July 2012, "high-energy-efficiency UPSs" will become the market mainstream in less than two years, and will significantly lower customer costs and lead to better carbon footprints. As customers are becoming more eco-conscious, Delta's Ultron DPS features industry leading performance of up to 96 % AC-AC efficiency supported by the state-of-the-art triple level inverter (TLI) technology plus it is the most compact of its kind in the market. With Delta's unique three phase power factor correction (PFC) topology, the Ultron DPS demonstrates excellent performance, input power factor close to 1, output power factor of 0.9 and low iTHD < 3%. The Ultron DPS provides customers with the benefits of a stable power supply, high power efficiency, low capital investment and low overall operational cost.
More DPS Series introduction, please click here.
---
About Delta Group
Delta Group, founded in 1971, is the global leader in power and thermal management solutions. Delta has sales offices worldwide and manufacturing facilities in Taiwan, China, USA, Europe, Thailand, Japan, India, Mexico, and Brazil.
Our mission statement, "To provide innovative, clean and energy-efficient solutions for a better tomorrow," focuses our role in addressing key environmental issues such as global climate change. As an energy-saving solutions provider, Delta's businesses encompass power electronics, energy management, and smart green life. Delta actively promotes its own corporate brand and its brand spirit "Smarter. Greener. Together." represents high-efficiency energy-saving solutions.
Delta is widely recognized for its dedication to corporate social responsibility. In 2012 Delta was selected for two of the prestigious Dow Jones Sustainability Indexes—the DJSI World Index and the DJSI Asia/ Pacific Index—for the 2nd consecutive year. Delta was also ranked first among the 29 leading companies in the ITC Electronic Equipment sector and named as "Sector Leader" for the first time, which is major international recognition for Delta's continued commitment to corporate social responsibility and sustainability.
For more information about Delta Group, please visit: www.deltaww.com
About Delta UPS and MCIS BU
Delta's Mission Critical Infrastructure Solutions (MCIS) business unit (BU) has developed a variety of UPS solutions. Positioned as "The power behind competitiveness," the MCIS strives to play an important role in making our customers' businesses and operations more competitive. Our mission is realized by providing highly reliable and efficient power management products, including UPS and datacenter infrastructure solutions that ensure the continuity of mission critical operations and better total cost of ownership (TCO). Delta offers 4 UPS product families.
| | | | |
| --- | --- | --- | --- |
| | Power | Topology | Applications |
| Agilon | Under 1kVA | Single-Phase UPS | PC and Peripherals |
| Amplon | 1kVA or higher | Single-Phase UPS | Server and Network Equipment |
| Ultron | 15kVA or higher | Three-Phase On-line UPS | Datacenter and Industrial Equipment |
| Modulon | 20kVA or higher | Modular UPS | Modular. Unit expansion and redundant power supply can be achieved within a single rack |
More information about Delta MCIS products can be found at www.deltapowersolutions.com.