2018.10.09
Delta to Present its Broad Range of Energy-Efficient Solutions for Data Centres at Data Centre World 2018 Singapore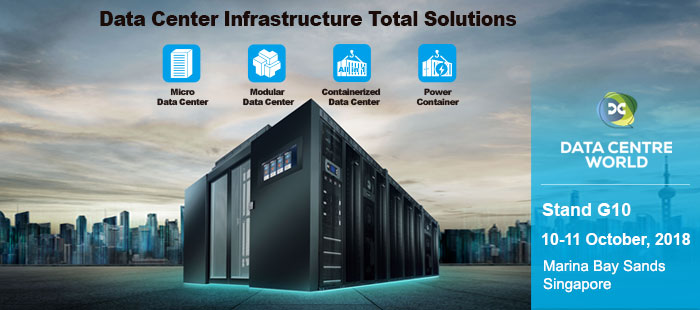 Welcome also to the Delta Solution Forum – An exclusive event with our data centre experts and select customers
Delta, a global provider of power and thermal management solutions, announced today it will be showcasing its range of Data Center Infrastructure Total Solutions at Data Centre World 2018 in Singapore on 10th and 11th October 2018. These will include its modular data centre solution, containerized data centre, modular uninterruptible power supply (UPS), lithium-ion battery energy storage system, and its RowCool precision cooling units. Delta will also be running a live demonstration of its data center infrastructure management (DCIM) solution InfraSuite Manager. The Delta Group company Eltek, another leader in the global data center solutions market, will be exhibiting alongside Delta at the joint stand.
The Delta Solution Forum
A key highlight at Data Centre World 2018 will be the Delta Solution Forum, where Delta will present data center design concepts for high reliability and scalability to select consultants, system integrators, and key account customers from a range of industries including computing services, banking, air travel, and telecommunications as well as the public sector. These invited guests will enjoy exclusive access to Delta experts, who will highlight the company's solution capabilities and global references in addition to the latest trends in the market.
Technology Highlights
One of the technological highlights at this year's Data Centre World will be Delta's Modulon DPH series UPS, a state-of-the-art system that boasts the world's highest power density: models are available with 500kVA in a single 19" rack cabinet or 600kVA in two standard 19″ rack cabinets. Modulon DPH UPS systems offer advanced failure detection and event analysis capabilities to ensure outstanding reliability at large data centres and colocation or cloud service providers. The RowCool precision cooling solutions Delta will have on display offer efficient cooling with variable airflow for lower energy consumption.
Other advanced data centre solutions that visitors to the Delta booth will be able to experience include scale models of containerized data centres and modular data centre solutions. Full-size products on display will include the modular UPS DPH series, new li-ion battery modules, RowCool solutions, and modular high-density racks.
"There are a lot of interesting developments happening in the data centre space right now. We're seeing a trend towards smaller edge data centres housed in containers like the containerized data centre that we'll be featuring at Data Centre World 2018. On the other end of the spectrum, we're also seeing a strong push towards even larger collocation and cloud data centres. To maximize efficiency, these big data centres require higher-capacity and, crucially, higher density backup power solutions. We're answering these changing demands with products for the power room like our recently expanded Modulon DPH line of fully integrated three-phase UPS as well as white space solutions like our RowCool products. So whether you're anticipating a future of edge, cloud, or hybrid data centre scenarios, Delta is showcasing a number of interesting products you won't want to miss at this year's Data Centre World," said Dr. Charles Tsai, general manager of Delta Electronics' Mission Critical Infrastructure Solutions (MCIS) business unit.
Visiting the Delta booth at Data Centre World 2018
Delta is welcoming visitors to stand G10 to see the full range of Delta MCIS data center solutions on 10th and 11th October at this year's Data Centre World at Marina Bay Sands in Singapore. More information on the event.