2018.02.16
Delta Showcases Data Center Solutions at DCD Thailand & Indochina 2018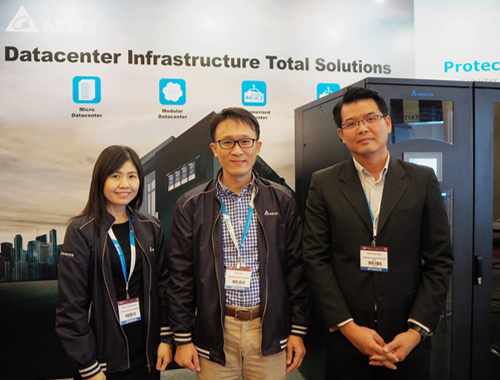 Delta Electronics (Thailand) PCL., one of the world's leading electronics, energy management and information and communication technology (ICT) innovators, showcased its latest data center infrastructure solutions at the 4th Annual DCD Thailand & Indochina 2018. Datacenter Dynamics (DCD) hosted the regional summit for datacenter & cloud infrastructure at the Centara Grand & Bangkok Convention Centre, Central World. Industry leaders, analysts, and top global innovators in the region gathered at the event to discuss and showcase products and solutions for data center and cloud infrastructure that will facilitate Thailand and the region's 4.0 digitalization revolution.
At the exhibit, Delta highlighted its latest Mission Critical Infrastructure Solutions (MCIS) products and solutions, including the Micro Data Center, Modular Data Center, and Data Center Infrastructure Management (DCIM), which are part of Delta's InfraSuite integrated data center solutions. These modular data center solutions provide a secure environment for equipment operation while supporting the development and standardization of scalable micro data centers. The high power density and small footprint of the Delta DPH 500kVA Uninterruptable Power Supply (UPS) impressed visitors to Delta's booth. Many IT managers enjoyed using the Delta DCIM demonstration kit to learn how to manage different IT devices and equipment at multiple locations in real-time.
Delta leverages its core competencies to drive innovation in the four main modules of InfraSuite: power management, rack and accessories, precision cooling, and environmental management system.
Delta joins DCD event at 12 cities in worldwide, welcome to visit us to understand data center infrastructure total solutions.
APAC
Bangkok
Feb. 17
Jakarta
Apr. 5
Sydney
Aug. 23-24
Bangalore
Jul. 18-19
Mumbai
Oct. 25
Hong Kong
Nov. 15
EMEA
Madrid
Apr. 5
Dubai
Nov. 27
London
Nov. 5-6
North America
San Francisco
Jun. 26
Dallas
Oct. 30
South America
Sao Paulo
Nov. 6-7