Computex 2014
Date:
2014.06.03 - 2014.06.07
Contact:
E-mail:
info.ups@delta.com.tw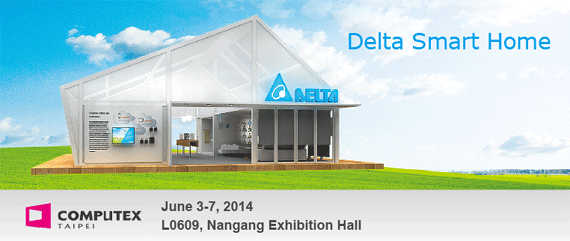 Dear Sir / Madam,
You are cordially invited to visit the Delta Group's booth (L0609) at the upcoming Computex Taipei 2014 from June 3rd to 7th, and experience intelligent, energy-saving living .
Our theme for this year's show is the "Delta Smart Home", which features home scenarios using Delta's consumer products and energy-saving solutions to create an innovative, clean and energy-saving lifestyle. Delta will exhibit products and solutions for a different approach to home living.
We hope to enable an enjoyable, smart and convenient lifestyle, that supports to environmental sustainability by adopting energy-saving technology. We look forward to seeing you at the show!
Sincerely,
Yancey Hai
Chairman
Delta Electronics, Inc.
Register your personalized e-ticket for free admission here: http://computex.leadexpo.com/
Recent Events