EH Series UPS, Three Phase, 10/15/20 kVA
Introduction
Product available regions :
Because product specifications vary slightly from region to region, please download your local leaflet or visit your local website for detailed product information.
| | | | | | | | |
| --- | --- | --- | --- | --- | --- | --- | --- |
| EMEA | North America | South America | SEA | India | China | Taiwan | South Korea |
| ● | | | | ● | | | ● |
Power Reliability with the Best Total Cost of Ownership
The Delta Ultron EH series is a true online, double-conversion UPS. It is a proven power solution for IT rooms, telecommunications, banking, medical facilities, laboratories, and other settings in which mission critical applications cannot be disrupted.
True online double-conversion UPS technology isolates the output power and protects it from input anomalies. The dual input design of the Ultron EH series provides enhanced availability by accommodating different power supply sources. By accepting a wide input voltage range, EH series UPS units reduce probability of battery discharge to prolong battery life. Even if the UPS is under maintenance, a continuous supply of power to the load can be maintained by the use of the built-in manual bypass.
When paired with the EH series' multi-connectivity interface, Delta's advanced management software supports analysis, remote UPS management and monitoring, remote shutdown event log tracking, and event alert management. System stability is further enhanced by the unit's simplified control circuit, and rapid computational capability is facilitated by the use of DPS-based technology.
For a modest initial investment, the double-conversion UPS series - EH provides both outstanding quality and one of the lowest costs of ownership for UPS systems within the 10-20 kVA range. To shrink the cost of operation even more, the units can be run in ECO mode for efficiency of up to 96%.
The Delta Ultron EH Series was honored by India's NCN magazine in May 2014 with an award for innovation and energy efficiency. Matching reliability and ease of use with cutting-edge technology, the EH Series has earned its reputation as a top performer in the protection of mission critical applications.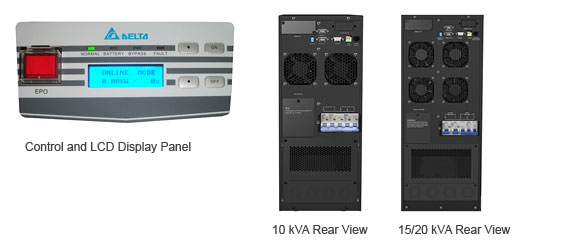 Applications