Delta Micro Data Center Powers Top Sailing Event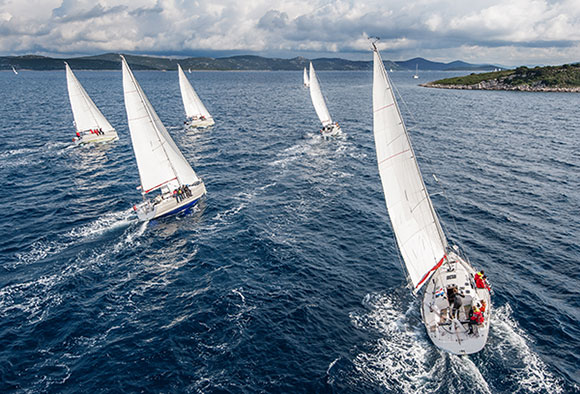 "Internet +" has become a ubiquitous part of every industry and is providing a welcome boost to the search for new models for development. Even traditional sporting events are now actively using information technology to upgrade their venues, broadcasts, ticketing and event audience services strategically. Delta Electronics, the leading international supplier of power management and cooling solutions, recently partnered with a national sporting competition center to build an advanced micro data center that will provide a top sailing competition with a reliable information platform.
Sailing competitions involve over a dozen application systems including an event management system, scoring system, and administration system. Unlike competitions held in indoor venues, hosting a sailing competition also involves gathering, processing, distributing and storing huge amounts of marine and terrestrial data. Such a complex competition IT system depends on data center infrastructure. The competition's management in Qingdao, China decided after a thorough assessment to adopt Delta's modular data center including the DPH modular UPS series, precision cooling, DCIM, and other products.
The UPS chosen for the sailing competition center comes from the modular DPH series. In addition to high availability, outstanding performance and exceptional efficiency common to all Delta UPS power products. Its N+X fault tolerance design uses an internal control mechanism to achieve automatic redundancy of power supply modules. The distributed control logic means automatic fail-over to another backup module to ensure the continued operation of the UPS. Hot-swap support for key components and modules improves the serviceability of the UPS so MTTR (Mean Time to Repair) approaches zero. Data center availability and reliability are also maximized. The importance of the UPS led to Delta incorporating a centralized power supply solution scalable to 500 kVA and a 2N dual bus design to increase greatly the reliability and availability of the power system. The high level of power protection ensures the uninterrupted operation of the sailing competition system.
The DCIM, InfraSuite Manager, used in the micro data center provides an integrated view of all the IT infrastructure (virtual machines, servers and racks) and facility environment (power, cooling system, and environment) that the data center operations depend upon. All critical hardware and software operations in the data center are now integrated. Data center administrators are provided with more information for planning and predicting the data center's future requirements including environmental monitoring, power system, cooling system, security system, asset management, report management, data analysis, and IT integration.
The Delta modular data center embraces the green design philosophy for energy efficiency by using rack-based (in row) cooling. Blowers deliver air directly to the heat sources to shorten airflow. More precise cooling also eliminates localized hot spots. Cold aisle containment prevents hot and cold airflows from interfering with each other. Such interference may cause a heat-island effect resulting in a loss of airflow and cooling. The Micro Data center increases cooling efficiency by over 12% compared to conventional data centers. PUE can be reduced to below 1.5 when water and natural cooling systems are used.
An advantage offered by the new sailing competition data center over conventional data centers includes support for on-demand and progressive scaling. The sailing competition system can continue to scale up without any constraints as the amount of data continues to grow, and it is ready to meet the challenges of even more exciting competitions.