Delta Ensures Uninterruptible Power at Provinciehuis Utrecht with Delta 120kVA Modular UPS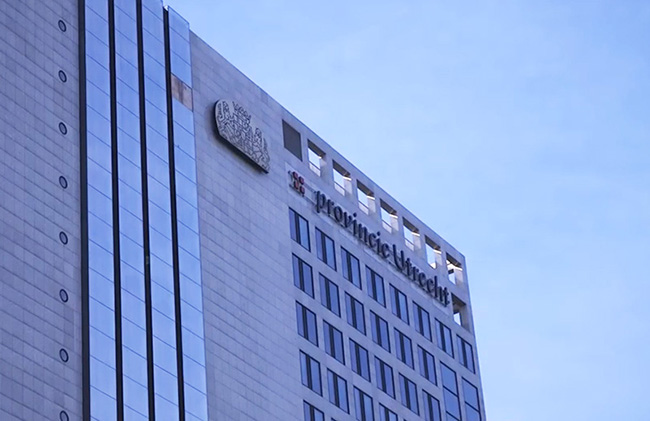 The Province of Utrecht in the Netherlands consists of 26 municipalities and is home to a population of 1,320,000. The Provinciehuis government building is where 49 representatives work closely with municipalities and the central government of the Netherlands. Since the Province of Utrecht needed to replace the existing UPS, they turned to B&A, an authorized business and service partner of Delta, who has experience in design, installation, commissioning, maintenance, and 24/7 services of emergency power systems.
The UPS (Uninterruptible Power Supply) is an essential piece of any critical IT infrastructure. The new units installed at Provinciehuis Utrecht would therefore have to provide outstanding reliability in this highly sensitive environment to keep important data and processes online for elected officials and the provincial administration. The customer also needed to ensure continuity of operations throughout the project. Due to the constraints of the existing installation at the facility, a new UPS with a very small footprint was required. What's more, the customer wished to remain flexible with regard to increased power and backup power requirements in the future.
The right manufacturer and solution for the project
When Delta was approached by its partner B&A to supply an uninterruptible power supply (UPS) for Provinciehuis Utrecht, it was able to draw from its extensive portfolio of emergency power solutions. Delta Data Center Infrastructure Solutions make companies and public authorities more competitive with highly reliable and efficient power management and backup power infrastructure. Delta Electronics has also earned a reputation around the world for its next-generation modular UPS systems.
Choosing a manufacturer for the UPS was made easier by the fact that B&A had already been working with Delta on various projects and, over the years, has come to rely on Delta's expertise, quality, and broad product portfolio. Consequently, the specialists in emergency power systems are very familiar with Delta's products and services. "The relationship between B&A and Delta has been existing already for ten years," said Arie Ouweneel, sales manager at B&A. "Delta UPS are high-efficient and work in an utmost sensitive environment."
Two new UPS installed with no interruption of critical infrastructure
Delta's 120kVA modular UPS was a perfect fit as a replacement for the existing equipment at Provinciehuis Utrecht. It delivers high efficiency and required only minor adjustments upon installation. Delta's modular UPS features three-phase modular UPSs for power rating requirements above 20kVA that serve as power protection for mission-critical infrastructure such as datacenters, mid to large network equipment, and more. Its modular design delivers an ideal solution for datacenters demanding peak efficiency and availability at a lower TCO.
When installing Delta's 120kVA modular UPS, the Delta Electronics partner B&A had to perform only very minimal adjustments. One of the big challenges in this project was ensuring continuity. The extensive knowledge and skill of Delta engineers proved to be a great asset that helped to make this deployment go smoothly. "We were impressed with the quick response from B&A and Delta which helped us to find the best solution for our system and made it a very successful project", said Nico van Leeuwen , Facilitair Medewerker (facility manager) from Provinciehuis Utrecht.
The outlook for Provinciehuis Utrecht and B&A
Now that the two new Delta UPS are installed at Provinciehuis Utrecht, maintenance has become more efficient since only one supplier is now responsible for the different systems. "Our Delta modular UPS are innovative and high-quality solutions that help our customers achieve high efficiency and reliability," said Mandy Ho, sales manager BeNeLux of Mission Critical Infrastructure Solutions (MCIS) business unit at Delta Electronics EMEA region. "The modular design of the UPS units will also allow for easy system scalability if necessary in the future, resulting in a lower total cost of ownership. B&A have a deep knowledge of our product and solution portfolio as well as an extensive technical expertise and we're glad to have found a partner we can fully trust. We are proud of having been part of this successful UPS project."
Delta Provides Modular UPS Solution for Provinciehuis Utrecht in the Netherlands