Powering Competitiveness in TV and Broadcasting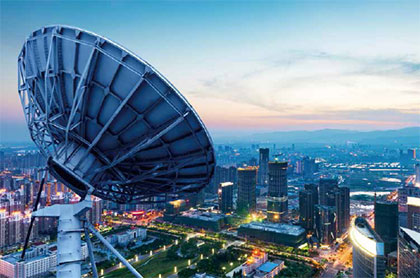 Applications
Establishing a broadcasting network data center as a core transmission unit for broadcasting network services helps achieve the integration of telecommunications, cable TV, and Internet networks. These newgeneration smart data centers have both high capacity and high performance with major applications such as:
Video
Video has always constituted a core service of the television and broadcasting industry. Service providers are taking into account the rising expectations of customers in the area of video quality. High-definition and 3D high-definition are gradually becoming the mainstream. Television and broadcasting data centers must primarily ensure that video data is properly stored, distributed, and managed.

Broadband Internet
Data center infrastructure must satisfy the needs of broadband service development. At the same time, mirror servers alleviate the lack of Internet resources and export bandwidth.

Operations support
Data centers support the IT system inside a broadcasting company for data processing and storage. Generally data centers include redundant or backup power supplies, redundant data communications connections, environmental controls (e.g., air conditioning, fire suppression) and various security devices.

IDC colocation
The development of IDC related services includes colocation, cloud computing and complete telecommunication services.
Customer Demands
With the intensified integration of major networks, the television and broadcasting industry has reached a new peak in innovation and in establishing data centers. Data centers are established based on requirements such as flexibility, reliability, safety, energy savings, and smart control.
Flexible expansion
Broadcasting services are expected to continue rapid growth far into the future. Data center planning requires sufficient space and capacity to ensure prompt followup to business growth and rapid deployment. Data center layout and server racks must be standardized and modularized. The modularization concept allows flexible data center planning and expansion. 
High security and reliability
The development of broadcasting industry services and unique service characteristics determine the timeliness and continuity of data processing. Data center system configuration must take full consideration of reliability. Comprehensive security measures safeguard the data security of data center users. Reliable equipment performance and redundancy schemes assure high data center reliability.
Energy savings
Products with energy-saving technologies must be selected for entire cooling facilities. For IT application facilities, products with lower power consumption should be selected for servers. Free cooling may also be utilized to achieve the goal of energy savings.
Smart control
The data center environment and facility monitoring, control, and management must be incorporated. This should include data center environment temperatures, humidity, monitoring of leakage and key equipment such as cooling towers, water pumps, chillers, precision cooling, and electric valves to achieve optimal control and green energy savings for data center air conditioning systems.
Delta UPS and data center solutions
High reliability and performance - Delta UPS solutions
Delta offers complete UPS solutions to protect small-, medium-, and largesized data centers. Customers can select suitable UPS systems in accordance with individual needs to maintain seamless operations and ensure long-term competitiveness. 

Small- and medium-sized data centers
The Delta Modulon DPH 25-200kVA UPS series is a new-generation modular UPS which is hot swappable and has an AC-AC efficiency of up to 96% (up to 95% at a light load of 30% and 96% at 50% load and above). Four UPS system units can be paralleled without the need for additional hardware. The full power rating (kVA=kW) enhances the availability of the power supply and it is equipped with built-in batteries a rack-mount power distribution cabinet (RPDC). This is an exclusive ultra-integrated power solution for small-sized data centers.
Large-sized data centers
The Delta Ultron NT series and DPS series UPS have a power rating of 20 - 4000kVA. Electricity costs gradually become a key issue for IT managers. Delta DPS series models have an AC-AC efficiency of up to 95% even at a light load of 30%. This noticeably reduces the operation costs of data centers.
Smart and energy-saving - Delta precision cooling solutions
Delta is a globally leading manufacturer of power supply and thermal management solutions. Delta has developed InfraSuite precision cooling solutions to meet the demands of modern data centers and to assist customers in the solution of thermal management and power consumption issues.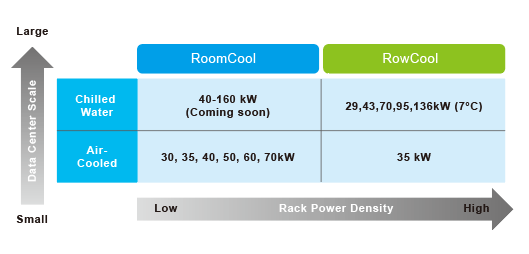 Delta has complete UPS and data center solutions offering high reliability and efficiency for the television and broadcasting industry. Our technical acumen and engineering capabilities are widely recognized by industry leaders in television and broadcasting, such as:
Delta provides a complete datacenter solution for ShanXi broadcasting station
With the client's requirement for a green, energy efficient data center in its broadcasting tower, the design will include a complete solution along with incorporating modern IT aesthetics. Delta has fulfilled requirements by providing the InfraSuite Data Center Solutions with the installation of the Modular NH Plus UPS, PDC, server rack, RoomCool and environmental management system.

Delta's InfraSuite Datacenter Infrastructure Solution Helps Harbin Radio, Film and Television Bureau Build a Highly-efficient Datacenter
Delta's InfraSuite data center solutions satisfied the IT demands of the Harbin Radio, Film and Television Bureau with a simultaneous focus on future development needs. The adopted solution includes precision cooling, the Ultron HPH 30kVA UPS with a unity output power factor, and power distribution cabinet and racks. The integrated and modular design provides a competitive edge for customers in technology and the maintenance of operations.

Zhejiang IPTV data center in China selects the InfraSuite data center solution
The adopted Delta InfraSuite data center solution provides an integrated solution with the high performance modular DPH 125kVA series UPS and power distribution systems, modular racks, and a total management and monitoring system to ensure stable and reliable operations of the data center of the newly established Zhejiang IPTV integrated broadcasting control platform. This solution ensures rapid setup and satisfies the current and future needs of the Zhejiang IPTV monitoring center.