How Modular Design Addresses the Demand for High Availability and Right-sizing of Datacenters?
IT operations are a crucial aspect of most business operations. One of the main concerns of datacenters is operational continuity. The most stringent datacenters require the highest availability possible to sustain mission critical functions, the backbone of business continuity. As data keeps growing by the widespread use of smart phones, social networking and video streaming websites, datacenters will continue to be power hungry facilities. From a capital investment perspective, maintaining the flexibility to right-size a datacenter is certainly a critical topic.
As availability is a function of Mean Time to Repair (MTTR) and Mean Time between Failure (MTBF), a short MTTR will increase the availability level of a system.

To achieve quick maintenance and operations recovery, modular design is a primary method. Modularity is the foundation of standardization. What are the benefits driven by a standardized design? Standardization can significantly help enhance human learning capability, predict problems and increase human & machine efficiency.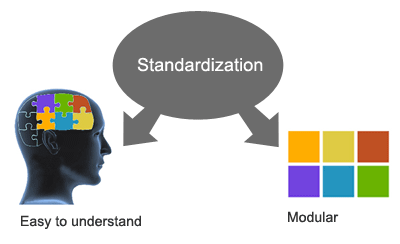 When it comes to system availability, a "modular system" has the highest availability level with the characteristics of being both swappable and designed for redundancy (fault tolerance). As a UPS is one possible single point source of failure in datacenters, it is becoming essential to consider how to apply the modular concept to UPS design.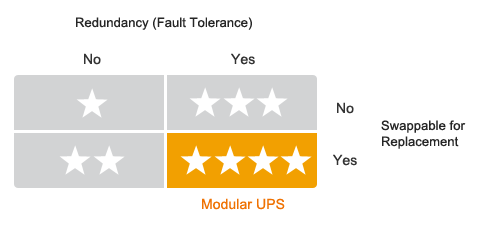 Using the Delta Modulon DPH Series as an example, its fully modular design with hot-swappable modules allows quick replacement and expansion to guarantee an uninterruptible power supply to loads. Hot-swappable modules ensure the MTTR is close to zero without downtime risks.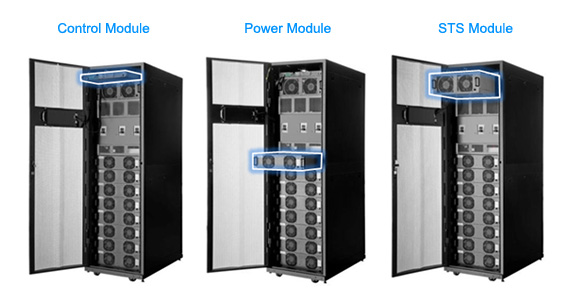 In addition to datacenter availability, high system scalability to meet rapid business growth is another major issue which can be addressed by modular design. Through the adoption of modular systems such as modular UPS, PDC, PDU, and rack and cable management, datacenters can be upgraded seamlessly following business expansion patterns without the need for power capacity over-sizing in the initial phase. With the modular structure, it is easy to upgrade existing datacenters from TIA-942 reliability level Tier 1 or 2, up to Tier 4.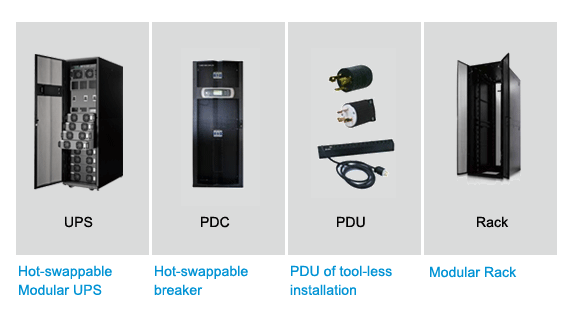 If the UPS is designed with a modular structure, the scalable architecture allows you to optimize cost expenditures to meet your power demands and deliver uninterrupted services in line with business growth without over-sizing power capacity. The plug-and-play design of power modules supports vertical and horizontal expansion of power capacity at the right time with the right investment. As an example, for a Delta Modulon DPH in a single rack enclosure the system can vertically scale from 25kW to 200kW and achieve N+1 or N+X redundancy in the same rack. As business demands grow, the flexibility of the Modulon DPH allows for parallel expansion of up to four units without requiring additional hardware. The Modulon DPH offers the advantages you need without the high initial investment costs or sacrificing power capacity so as not to create investment excess due to capital waste.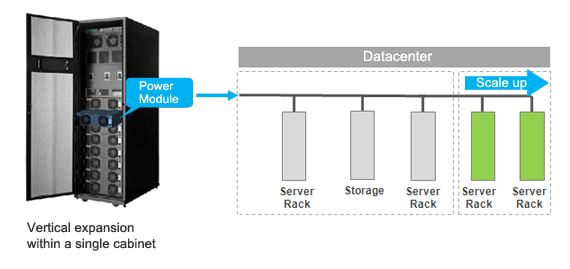 The "Pay as You Go" modular design allows datacenters to meet their consumption requirements without tying up valuable capital. Delta Modulon DPH is a modular UPS ideal for medium-sized datacenters demanding peak scalability at a lower Total Cost of Ownership (TCO).
As a leading player in modular UPSs and an advocate of modular data centers, Delta continues to offer total datacenter solutions with a state-of-the-art modular design concept that echoes industry trends and requirements.