Understanding the role of DCIM in modern data centers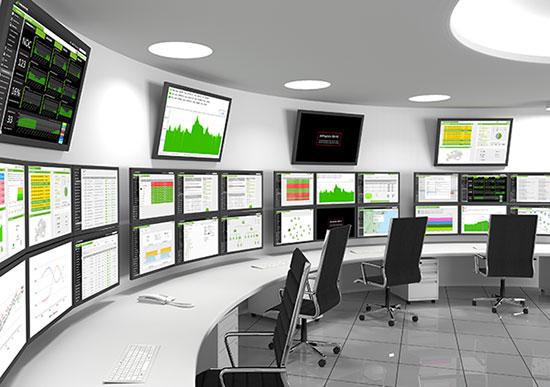 The capabilities offered by a typical Data Center Infrastructure Management (DCIM) system has evolved substantially from its early days. And while there is a lot of ongoing debate about the features a full-fledged DCIM solution should incorporate, there is no disagreement that it is a crucial component in modern data centers. What is DCIM exactly, and why does it play such an important role?
Analyst firm Gartner defines DCIM as "[a set of] tools [that] monitor, measure, manage and/or control data center utilization and energy consumption of all IT-related equipment and facility infrastructure components such as power distribution units and computer room air conditioners".
In a nutshell, the objective of DCIM is to deliver automation and visibility into the data center to increase visibility and ease of management of the equipment there. A DCIM could be configured to work across the entire breadth of the data center, within a private area within the larger facility, or even a private data center deployed by an enterprise.
DCIM is a comparatively new development when contrasted against the lengthier history of data centers. The former has grown into maturity since the first DCIM solutions started appearing on the market around a decade ago, however, and is now part and parcel of modern facilities.
Indeed, analyst firm IDC expects DCIM to grow at a compound annual rate of about 16 percent over the next few years to reach $988 million by 2019. The velocity of its growth, coupled with the very real and tangible benefits makes understanding DCIM important not just for facility managers, but also for CIOs and IT managers.Write-up on DCIM that can be shared on social media and read by CIO/IT managers or someone new to DCIM.
Investing in DCIM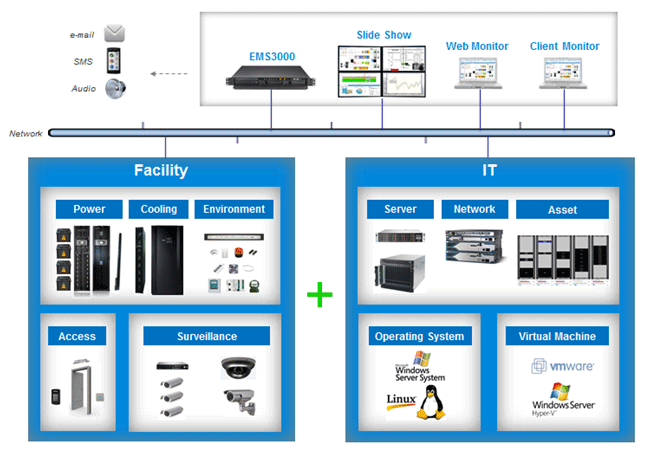 The easiest way to highlight the value of DCIM is to contrast it with a legacy data center. As opposed to having facility managers manually track assets using spreadsheets and network diagrams, a properly implemented DCIM system offers a self-generated or graphical view of key components and statistics within the data center.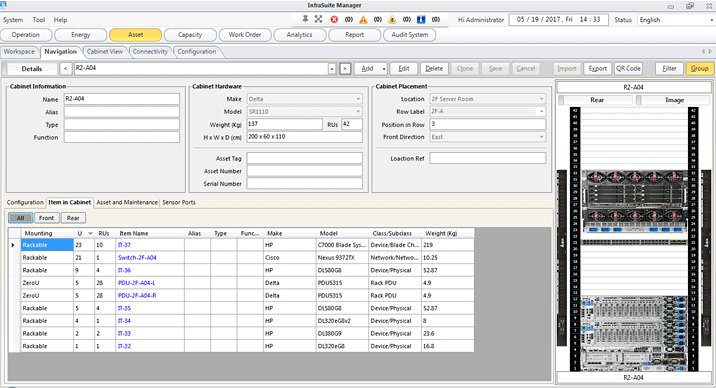 For instance, Delta's InfraSuite Manager can show the correct installation location of servers and network devices. This comes as a hierarchical icon overview of an actual data center, and offers a display showing the current capacity and spare racks in a facility.
Data centers located within existing buildings will likely be integrated with an existing building management system (BMS) using a variety of protocols to manage and monitor incoming power feeds, backup generators and the health of cooling systems. This could also extend down to having a real-time view of temperature at the aisle level or the power consumption of individual racks.
The information and visibility that a DCIM offers gives small data center teams the edge they need to operate it efficiently, and is also essential to quickly pinpoint potential issues and problems that develop. This is vital as data centers are more complex than ever today, and are growing both larger in their deployed footprint, and denser in terms of compute power and ancillary equipment being packed into them.
It is well-established among experts that not all failures happen suddenly. Many issues tend to develop over a protracted period, all the while exhibiting symptoms that are registered as seemingly minor warnings. To preempt that, sensors such as Delta's EMS1000 environment detector can collect environmental parameters such as temperature, humidity and others, to offer continuous updates on the state of the data center.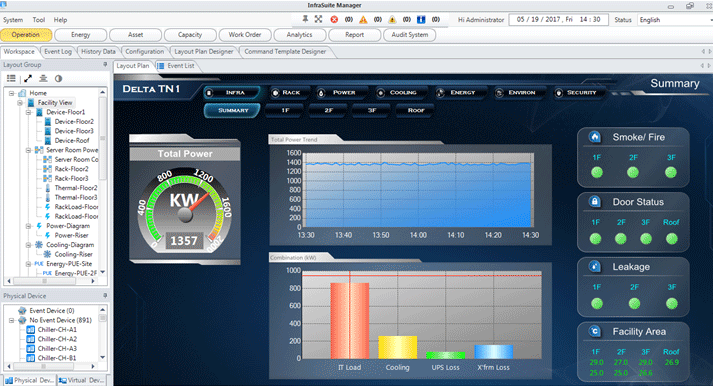 With such devices in a data center potentially numbering in the hundreds, the DCIM plays a pivotal role in tracking a vast number of data points to flag anomalous situations or negative trends before they impact operations. Having the pulse of the data center presented on a central, configurable dashboard can also allow facility managers to more intuitively sort through the many systems under their charge, and potentially make the connection between disparate warnings that they may have otherwise missed.
Indeed, more sophisticated DCIM solutions could also offer actionable recommendations, or churn out customized at the touch of a button. On its part, Delta's InfraSuite Manager provides event logs, follow-up tracking, historical charts and analysis and various interval reports for the collected data. This allows IT staff to monitor and understand the overall data center environment from a central dashboard in real-time.
On the flip side, there is no industry-wide DCIM standard that is implemented by equipment makers, or dominant platforms such as those in the IT sphere. Scores of DCIM solutions exist today, which can roughly be divided into full-fledged platforms that attempts to do everything, to DCIM-aware products that are designed to plug into these platforms or work with other DCIM-capable components.
It would not be an exaggeration to say that no two DCIM implementation are exactly same, considering the varied nature of DCIM implementations out there. This is not surprising when one considers that every data center is essentially a customized development with very different priorities and objectives.