Powering Competitiveness in Datacenters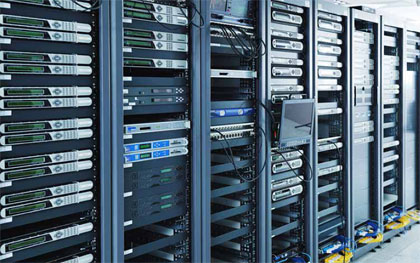 Application
● IT loads in datacenters
Big Data continues to have a huge impact on many industries offering a variety of applications and business opportunities. Datacenter infrastructure is the backbone of business operations in this new, dynamic era. No matter the size of a datacenter - from single rack deployment or computer room, to midsized or enterprise/large datacenters - the UPS plays a crucial role as the backup power ensuring the continuous operation of critical IT loads such as server, network, storage, communication, and other devices. The mission critical IT applications of modern companies, such as Enterprise Resource Planning (ERP), mail servers, webservers, and other application servers, also need an exceptionally reliable power supply to sustain 7/24/365 non-stop operations.
Customer Needs
● High availability
● Energy Efficiency
● Scalability
In the era of Big Data and the internet of things (IOT), data growth, scalability of datacenter infrastructure, and the cost of power are the top three challenges IT managers face. The adaptability of UPS and datacenter architecture is the key for an enterprise to sustain its competitiveness and pursue market opportunities in a timely manner. Standardization and modularity are the two pillars of building an ideal datacenter to meet growing data demand. When availability, efficiency and expanding according to business needs are essential, the modularized UPS with high power performance is the perfect choice to provide power protection and total cost of ownership (TCO) savings.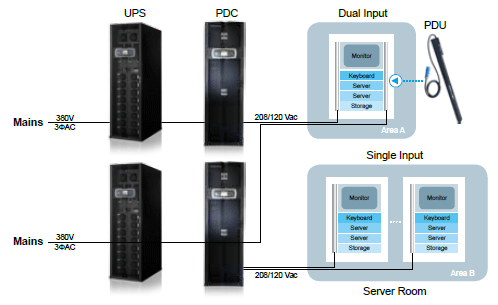 Delta Solutions
Delta provides a full range of UPSs to protect datacenters large and small. Customers can choose suitable UPS systems based on their needs to maintain seamless operations and ensure long-term competitiveness.

Server Closet
Delta Amplon R, RT and Gaia series are single-phase online double-conversion rack-mounted UPSs suitable for server closet applications. Customers can easily implement 1+1 redundancy for TIA-942 Tier 2 reliability with RT series 5-10kVA. An optional external battery pack can be connected for a longer backup time to keep the servers safe and running smoothly at all times. 

Small to Medium Datacenters
Delta's Modulon

DPH series UPS 25-200kW

is a new generation of fully modularized, hot-swappable and highly efficient UPS with AC-AC efficiency of up to 96%. The hot-scalable power modules support seamless datacenter growth for a mid- to long-term time horizon. The ultra-compact design and small footprint of DPH 75kW model, with in-built batteries and rack-mounted power distribution cabinet (RPDC), is the ultra-integrated power solution for small datacenters.
 
Large Datacenters
Delta's three-phase standalone UPS Ultron

NT series

and

DPS series

are available from 20 to 4,000kVA (8 x 500 kVA in parallel) supporting the high power demand of large datacenters. As cost of power is becoming a critical issue for IT managers, and datacenters are usually running under 50% load, Delta DPS series has high AC-AC efficiency 95% even at a light load 30% to achieve significant datacenter operating costs savings.
Delta has complete UPS solutions offering high availability, efficiency and scalability for datacenter segment. Our technical acumen and engineering capabilities are widely recognized by industry leaders in the datacenter segment, that includes:

Delta Provides UPS to LG Electronics Plant Data Center in Russia
Delta provides comprehensive UPS and datacenter infrastructure solutions to fulfill a broad variety of datacenters