Powering Competitiveness in Oil and Gas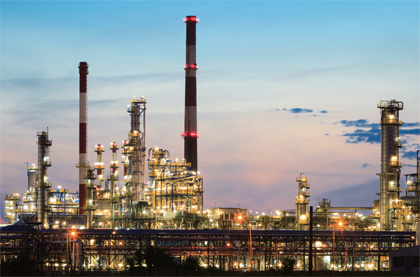 Application
With the highly automated production process of the oil and gas industry, only a few operators are normally required to run the production line for one to two million tons of natural gas per year. In these circumstances, distributed control systems (DCS) or programmable logic controllers (PLC) are extensively applied for control rooms, boilers, storage, water treatment, methanol and other areas. The reliability and quality of a power supply system is by no means the primary focus, and a UPS is the safeguard to guarantee strict power protection. In addition, emergency lighting, fire exhaust, and pumps also need UPSs as a reliable power back up. For natural gas pipelines, there is a cabinet every 500 to 1000 meters for gas leakage detection, monitoring, and communications. Single-phase UPSs are also installed for critical power supplies.
Besides factory facilities, UPSs are a datacenter necessity in the oil and gas sector to secure enterprise application platforms, surveillance, security systems, data storage, fire systems and more.
Customer Needs
Oil refinery plants are continuously running the refining process which means constant exposure to a harsh environment with corrosive chemicals, high temperatures, and high air pressures. The required reliability of a DCS system can be up to 99.9% or 100,000 hours of MTBF (mean time between failures) for complete monitoring and management. The ultimate reliability of the backup power system is always the top priority. However, in IT-extensive application scenarios such as server rooms or datacenters, leading AC-AC efficiency and UPS scalability are also highly appreciated by customers for realizing energy savings and cost optimization.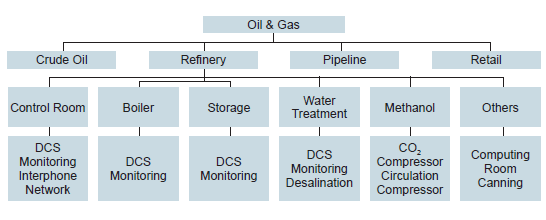 The Delta UPS Solutions
Reliable Power to Ensure Oil and Gas Business Continuity 
High Availability and Reliability for Your Critical Loads
The Delta Ultron NT series UPS is a three-phase UPS that features power customization for greatest reliability. It is an ideal UPS solution for the oil and gas sectors.

Inbuilt isolation transformer acts as an electrical firewall between the incoming utility power and sensitive loads
Customized I/P-O/P ratings for various applications
Compatible with 100% unbalanced load. Suitable for industrial applications with rush current
iTHD < 3% with optional rectifier or active filter under full load
Interior PCBs with coating are corrosion-resistant to ensure high reliability in a harsh site environment 

 

Green UPS with High AC-AC Efficiency
Delta's Ultron DPS series is a double-conversion and IGBT-rectifier three-phase UPS. With state-of-the-art TLI (Triple Level Inverter) and three phase PFC (power factor correction) topology, the DPS features industry-leading performance of up to 96% AC-AC efficiency, input power > 0.99, Low iTHD < 3%, and output power factor of up to 0.9.

 

 

Full Modularity Supports Future Expansion
The Modulon DPH supports the ultimate availability for datacenter operations and provides the benefit of "pay as you go" without over-sizing the UPS. While achieving ultimate availability, the Modulon DPH does not compromise on power efficiency performance. When availability, efficiency, and expansion according to business needs are essential, the Modulon DPH is the ideal UPS system to provide power protection and total cost of ownership (TCO) savings.

 

 

Small Power Protection You Can Rely On


Delta's Amplon family includes

single phase UPS systems

for power rating requirements above 1kVA that support medium to small network devices. It maximizes space and economic benefits and offers the power protection solution with the highest space and cost benefits.
 
Our technical acumen and engineering capabilities are widely recognized by industry leaders in the oil and gas segment, including:
Russia's third-largest oil producer which is also among the ten largest private oil companies in the world