Delta PQC Series Active Power Filter (APF) Helps Boost Power Supply Stability in the Telecom Industry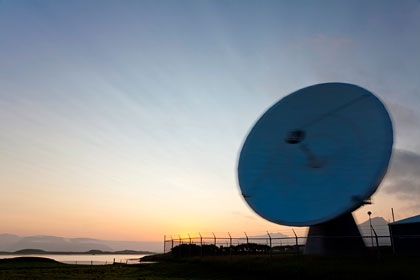 Industry background

Mobile communications is growing rapidly, particularly with the development of the IDC business. As the scale of IDCs expand, electricity demand increases and the variety of equipment grows.
Although telecommunications IDCs have extremely high demand for a reliable electricity supply, nearly 90% of power interruptions of telecommunications systems are directly or indirectly related to distribution equipment failure. Power quality problems, such as voltage harmonics and voltage leaps, are the major causes of distribution equipment failure.
 In the communication hub building or IDC, there are different types of equipment and products that use electricity, such as UPSs, VFD air-conditioning systems, switching mode power supplies, and high-power lighting equipment. Distribution equipment includes HV/LV switchgear cabinets, transformers, and power cables. Products that use electricity include UPSs, HVDCs, VFD air-conditioning systems, lighting fixtures, dimmers, monitoring systems, fire pumps, and more. All of these can be a source of harmonics, particularly the electrical equipment.
Project
China Unicom, Taiyuan city, Shanxi Province
Power quality problem description
Equipment damage, switch trips of unknown origin, and power interruption due to blown LV secondary distribution gearboxes occur frequently. In addition, capacitor banks often suffer severe breakdowns. With onsite inspections and tests, a high harmonics content was detected, which is likely the cause of the power distribution problems that critically affect the safety and continuity of telecommunications.
Solution
When high-power 6-pulse or 12-pulse UPSs are used in IDCs, current harmonics are generated by the UPSs. The Delta PQC modular APF was applied to eliminate harmonics and prevent them from interfering with one another. The APF has a harmonic removal range of 2nd-50th orders and a harmonic elimination rate of up to 97%. The Delta APF is also modular, compact, easy to install, and facilitates future capacity expansion.
Fifteen Delta modular APF sets were installed for one-on-one elimination of current harmonics generated by 120KVA-400KVA UPSs in the communication hub building of China Unicom Taiyuan, Shanxi. Part of the solution is shown in the figure below.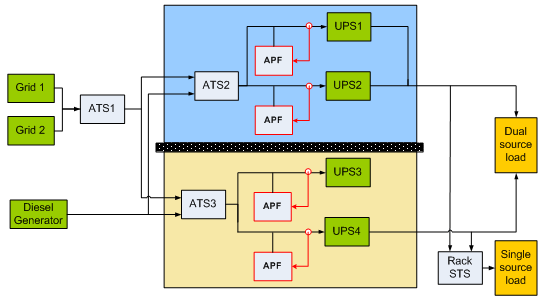 Effectiveness
The effect of Delta APF is significant, as shown in the data below.
| | | |
| --- | --- | --- |
|   | Current THD | Current (A) |
| Before compensation | 47.1% | 379 |
| After compensation | 4.5% | 351 |
Current waveform and THD before and after PQC implementation are shown below,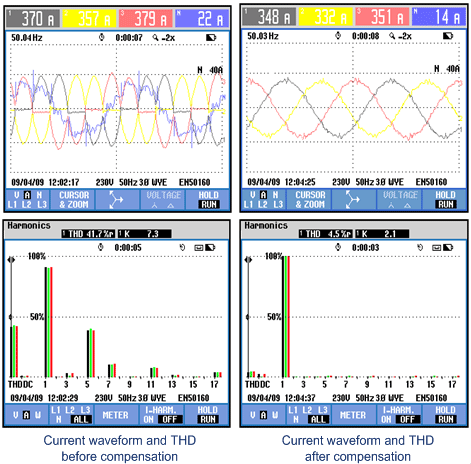 Project conclusions
After implementing PQC for China Unicom in Taiyuan, the problems of tripping the main switch and blowing the LV secondary gearbox disappeared. Blown capacitor banks were basically eliminated, and distribution system stability was enhanced significantly.
Related success stories
The PQC also provided successful solutions for the communication hub centers of China Telecom and China Mobile.