National Chung Cheng University Data Center Retrofit – One of the Largest Education Data Center Projects in Taiwan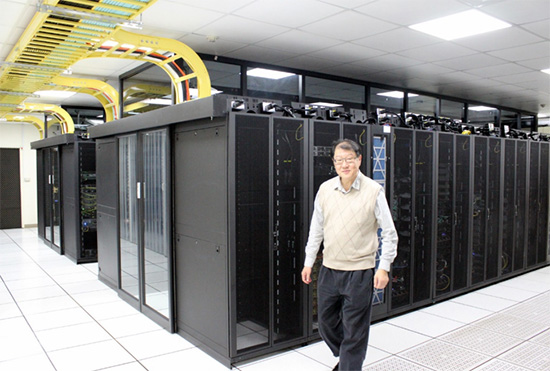 The National Chung Cheng University Computer Center's green data center reconstruction is one of the largest data center retrofit projects in Taiwan. Besides improving data center reliability, completely replacing the hardware also enhanced the quality of educational research and reduced overall power consumption by approximately 35%. This is equivalent to decreasing the data center's USD 171K a year in operating costs by USD 58K - providing the school significant savings on expenses.
Saving Power and Reducing CO₂ Emissions Nearly Equivalent to the Carbon Sequestration Capacity of Daan Park
Taipei is plagued by the problem of fine particulate air pollution (PM2.5), which is partially remedied by the city's Daan Park with its carbon sequestration capacity of 370 tons per year. The data center reconstruction at National Chung Cheng University, as calculated by the Ministry of Economic Affairs' (MOEA) power emission coefficient, saves approximately 258 tons of CO₂ emissions every year, roughly 70% of Daan Park's carbon sequestration capacity. Besides fulfilling the university's social responsibility, the project also serves as a benchmark for energy conservation and carbon footprint reduction for nearby universities and schools. Many schools have already made appointments to visit the facility.
According to the Director of the National Chung Cheng University Computer Center Hsin-lin Li, the original plan was to upgrade the antiquated air conditioners and servers in the 28-year-old data center, as well as replace the coaxial cables with fiber optic cables, but the university decided to perform a complete renovation instead. The data center retrofit project had its difficulties, because in addition to servicing 13,000 teachers and students at National Chung Cheng University, it also serves as the Yun-lin and Chia-yi Regional Network Center connecting 500-600 schools, and is also the data center for the College Admissions Committee.
"A live data center upgrade must be absolutely faultless!" Hsin-lin Li pointed out that since it is already in operation, reconstructing the data center was like "altering clothing while it is still being worn". Not only is reconstruction confined by the existing space, the data center must also ensure normal operation during the process. Meticulous planning was required in advance, and it was much more challenging than building a brand new data center from scratch.
Delta Electronics' DCIM for the National Chung Cheng University Green Data Center Retrofit Project
Taiwan's National Chung Cheng University's infrastructure upgrade program received full support from the university's President Zhang-hua Fong, and an endowment fund was utilized to create a Green Grid data center. A public tender was awarded to Stark Technology Inc., which adopted Delta Electronics' data center infrastructure management (DCIM) including data center infrastructure such as RowCool, UPS, PDC, server racks and environment management system.
The old data center was divided into two rooms occupying about 264 m². According to Ke-wei Lin, head of the National Chung Cheng University Resource Management Division, with the old outdated equipment, the air-conditioning unit had to operate 24 hours a day, 365 days a year, for a PUE (Power Usage Effectiveness) of 2.1. After the upgrade was completed during the three-month summer vacation, the entire data center was consolidated into a 205 m², tidy and green data center. With the upgraded infrastructure, the cold aisle only occupies 50 m², equivalent to decreasing cold air coverage by 81%, with PUE reduced to below 1.5.
Despite the decreased size, the new data center offers higher efficiency and impressive power-saving performance. Ke-wei Lin indicated that the old equipment was bulky, took up too much space and had poor efficiency. With the new server and virtualization technology, a rack can be loaded with several application systems, offering more powerful performance. National Chung Cheng University's energy-efficient green data center adopts Delta's data center infrastructure, which ensures a more stable information service for the school's administration and minimizes the risk of a single point of failure and power outages. The overall planning includes environment control and management software, as well as active warning and report generation, allowing data center managers to understand the status of the data center, troubleshoot in real time, and save manpower during inspection.
With frequent applications of IT tools such as big data analysis, data mining, and cloud computing platforms, there is a critical requirement for the reliability and overall performance of data centers. In particular, the planning of power systems is especially important to data centers, along with the performance of UPSs and expansion flexibility. The project adopts a modular architecture, which can be expanded in response to capacity needs and flexibly designed with reduced investment costs, thereby optimizing data center benefits. In addition, to improve the reliability and efficiency of its UPSs, National Chung Cheng University replaced its old 240kVA single-input parallel UPS with a 150kW/220V with dual input, transformer-free UPS. Besides minimizing the risk of a single point of failure, the entire power system's efficiency was also boosted to over 90%, and it can be expanded in the future depending on actual demand.
Hot-Cold Aisle Separation Resolves the Issue of Heat Dissipation
Another noteworthy aspect is the adoption of a hot/cold aisle separation design. Around 45% of power consumed by conventional data centers is in air conditioning, and poorer efficiency results in more power consumption. National Chung Cheng University's commercial air conditioners (R22 refrigerant) are more than 10 years old. To remedy the instability caused by overheating servers, the data center's air conditioners were set to lower temperatures as used in refrigeration. The air conditioner's poor performance resulted in a significant increase in power consumption and electricity expenses.
The key to improving hot spots caused by ineffective air flow management lies in creating hot/cold aisles. By arranging the racks in a particular layout, the cold air from the air conditioner is separated from the hot exhaust air of the servers. Since cold and hot air are not mixed together, cooling efficiency is improved.
Ke-wei Lin, a licensed electrician, was formerly the Chief of the Information Management Division, Chiayi County Government and the Chief of Finance and Taxation Bureau Electronic Operations, Chiayi County Government. He made adjustments according to the unique demands of air conditioner control points to ensure the normal operation of the air conditioners. In the event of a power crash, this prevented the servers from overheating. Previously, tangled cables underneath the raised floor would take several hours to sort through if something went wrong. To resolve the cable chaos, the new data center adopted overhead cable management with color-coded cables for easy reference.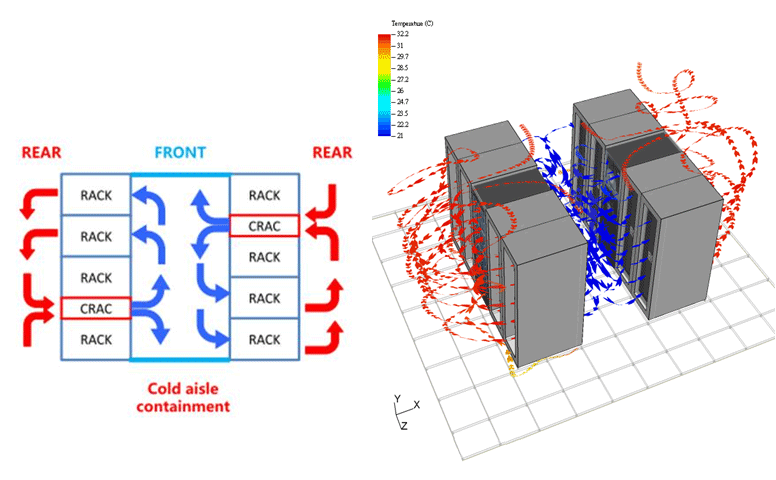 Data Center Retrofit is More Environmentally Friendly and Energy Efficient
It all started out as a change in the way of thinking. According to Hsin-lin Li, many organizations were reluctant to completely replace outdated equipment because they wished to save money by replacing their servers one at a time. This often led to an undesirable outcome. By completely replacing the school's outdated UPS and cooling system equipment, along with planning and creating a green data center, no additional construction costs were incurred. From planning and construction to operation, the brand new data center offers higher performance while achieving power savings at the same time.
Smarter. Greener. Together.
Mr. Peter Lin, sales manager of Communication & Information Solutions BU at Delta Electronics, indicated that Delta is not only customer-oriented but it is also supportive of educational institutions, which is why it offers favorable packages to academic organizations. Besides providing complete data center infrastructure solutions, the company assists clients in site selection, layout design, cooling and power distribution, and the local engineering team offers aftersales service and high quality support.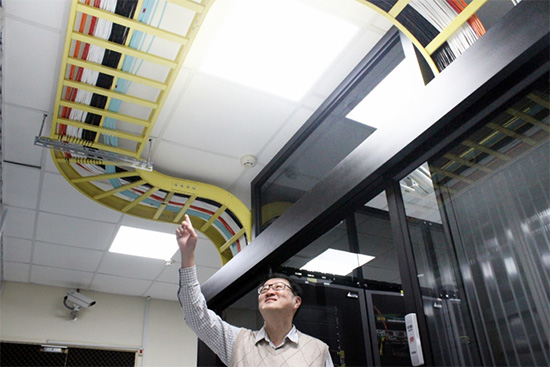 ▲ The National Chung Cheng University Computer Center data center adopts color-coded cables for easy reference.