Delta UPS backs up supercomputer in Chile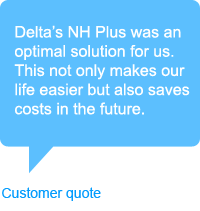 The Largest University in Chile uses a new, powerful iDataPlex solution by IBM to secure key information used in the development of natural sciences and mathematics. The backup power solution had to be able to be scaled up as demand increases so a modular UPS was a natural choice.
"Delta's NH Plus is an optimal solution for us. Its scalability and modularity enables us to multiply the capacity by four. This not only makes our life easier but also saves costs in the future," said the representative from the university. "For us, some of the additional advantages of Delta's solution are the hot-pluggable maintenance option, and the discharge availability in services and engineering that was developed by the installation and maintenance partner," he continued.
"We are proud of being selected by Delta as a partner in securing such vital information and in supporting scientists' work at the university. As Delta's Partner in Chile, we contributed with our pre-sales and post-sales support in order to provide a complete turnkey solution," said the representative of Delta's partner.