DPH Series UPS, Three Phase, 25- 75/150/200 kW, Scalable Up to 800 kW in Parallel
High Efficiency
Excellent Power Efficiency and Performance
Excellent power performance and efficiency directly translate into significant reduction of operational costs.
Two key trends have developed in the world of datacenter operations – demand for power and the cost of that power. Today's management is facing growing pressure to optimize performance for sustainability and growth.
Delta's UPS solutions deliver one of the highest power performance and efficiency ratings available while reducing cost. The Modulon DPH delivers fully rated power (power factor=1, kVA=kW) providing the maximum power capacity to the load. Compared to UPS systems with output of PF=0.8 and PF=0.9, the DPH supplies 25% and 11% more power, respectively. Other than that, the fully rated power factor is supported by a "stronger" inverter design providing better power protection and quality to loads.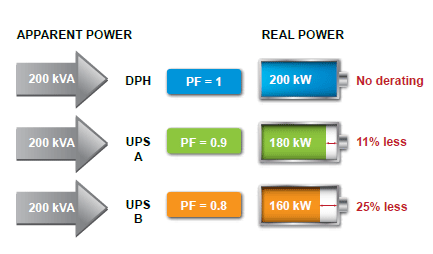 The Modulon DPH demonstrates excellent power performance with low total input harmonic distortion (iTHD<3%). Its reduced load pollution increases power quality, optimizes generator sizing to increase your investment savings, reduces installation costs, and extends the life of valuable equipment.
The Modulon DPH features excellent AC-AC efficiency up to 96% at half load and places itself among the highest in its class. In addition to energy saving, higher efficiency levels also mean less heat dissipation, giving way to lower cooling costs.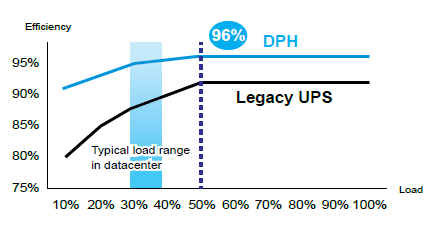 Excellent power performance and efficiency lower operation costs significantly. The Modulon DPH combines these benefits to provide high performance, efficient power protection to maximize operational savings for any datacenter.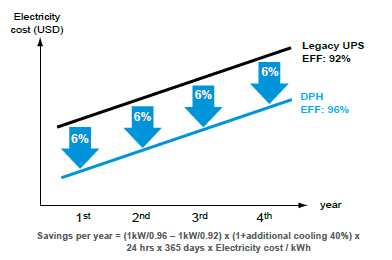 Product available regions :
| | | | | | | | |
| --- | --- | --- | --- | --- | --- | --- | --- |
| EMEA | North America | South America | SEA | India | China | Taiwan | South Korea |
| | | ● | ● | ● | ● | ● | ● |
For region-specific product details and variations in specifications, please download the local leaflet or visit the local website.