Delta HPH Series UPS Keeps the High Speed Railway Network on Track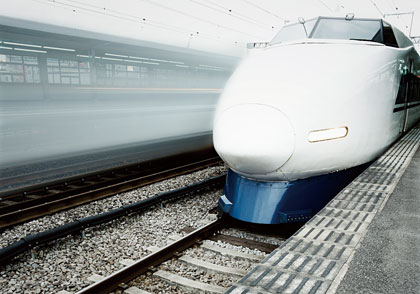 Delta uninterruptible power supply (UPS) solutions have long been popular among railway operators, and it was recently selected for the "Four East-West and Four North-South Lines" of the National High Speed Passenger Lines in China, the first high speed railway network to be built with local investment. The adoption of
Delta's HPH series UPS
provides the railway signaling system with the most reliable backup power.
The signaling system is crucial to ensuring the safe operation of high-speed trains and improving transport efficiency. The uninterrupted supply of power is in turn essential to ensuring the reliable operation of the signaling system. Any accidental or temporary power outage may lead to incalculable losses or even pose a massive threat to the safety of railway operations. A reliable UPS solution is therefore a must for railway signaling systems.
The high-speed passenger line has 32 signaling stations and each station is equipped with two UPS units for a 1+1 redundancy system that ensures an uninterrupted power supply for the signaling equipment. Since the HPH series UPS was launched, it has not only delivered the high reliability, but also offers the three following key advantages:
High energy-efficiency: HPH can supply fully rated power (output power factor = 1) with 96% AC-AC efficiency and offers an ECO mode with 99% efficiency. Maximum power can be supplied to the load without de-rating.

Ultimate availability: In addition to energy-efficiency, the HPH series UPS also offers a wide input voltage range, key components redundancy, and outstanding ease of front access maintenance to deliver a high level of system availability.

Greater flexibility: The HPH series can be configured for single unit, N+X or hot stand-by. Up to 4 units (maximum of 480 kVA) can be set up in parallel without the need for additional hardware. The adjustable charging current and battery voltage can be changed to suit different battery types. Flexible battery configurations optimize battery investments.
For added reliability, Delta designed a dual redundancy configuration with common batteries for the signaling system. The UPS system with "1+1" dual redundancy configuration can be upgraded to UPS "1+1" dual redundancy with a common battery solution. The redundancy technology and common battery solution of Delta's HPH series UPS ensures no change in the power system's backup time when grid power is interrupted or one of the UPSs fails. In addition to the significant enhancement in reliability, it also offers users savings on space and investment.
As a leader in power supply and thermal management solutions, Delta provides total UPS backup power solutions to railway and subway operators. In addition to high reliability and efficiency, Delta supports remote centralized management and long battery runtime. The HPH series UPS chosen for the project is now used by many clients in the transportation industry including the Jiaoji Passenger Dedicated Line and Batao High Speed Tunnel for power assurance. Delta HPH series UPS 20-200kVA has won praise from users for its exceptional performance, which has earned it the title "the most competitive UPS".