2014.10.17
Delta Rolls Out the Full Series of Modulon DPH Modular UPS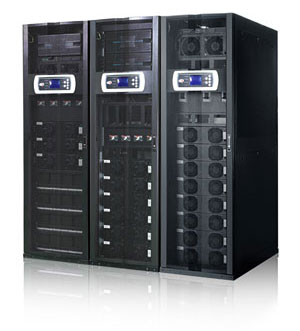 In the era of Big Data, the top challenges IT managers are facing are data growth, the flexibility of datacenter infrastructure, and the cost of power. Engineered with a cutting-edge design, Delta Mission Critical Infrastructure Solutions (MCIS) BU recently announced the global roll out of its Modulon DPH series UPS 75/150kW, to join its existing 200kW model. Along with the launch of the new 75/150kW series, an inbuilt rackmount power distribution cabinet and battery modules are also available as options for DPH, which allow upgrading as an ultra-compact solution, including power protection, power distribution, and battery runtime to streamline power management in small and medium-sized datacenters.
The fully modularized Delta Modulon DPH series UPS can provide customers with the following three core benefits:
Ultimate Availability
The Modulon DPH has a fully fault-tolerant design achieved by self redundancy of the power module with inbuilt control mechanism. Full control logic allows the system to self-synchronize in the event of a main module failure and automatically switch to a backup to ensure continuous operation. Its hot-swappable functionality of critical components and modules can improve the serviceability of the UPS system thereby reducing MTTR close to zero and assuring maximum uptime and ultimate availability in the datacenter.
High Scalability
The Modulon DPH is designed for seamless scalability for both vertical and horizontal expansion. Scaling from 25kW up to 75/150/200kW in a standard 19" rack enclosure, the Modulon DPH supports high flexibility for datacenter growth and provides the benefit of "pay as you go" without over-sizing the UPS in the initial phase of datacenter operations.
Leading Power Performance and Efficiency
While achieving ultimate availability, the Modulon DPH does not compromise on power efficiency performance. Its superior power performance (kVA=kW) and industry-leading AC-AC efficiency (95% at 30% light load and 96% from 50% load) enables customers to save significant energy costs. When availability, efficiency and expanding according to business needs are essential, the Modulon DPH is the ideal UPS system to provide power protection and total cost of ownership (TCO) savings.
"Since the Modulon DPH 200kW was launched in 2012, we've seen the modular design concept well received by global customers and power management specialists," said Dr. Charles Tsai, general manager of Mission Critical Infrastructure Solutions (MCIS) business unit, Delta Electronics. The Modulon DPH 200kW UPS had successfully secured a major railway upgrade project in Germany, provided continuous power to one of the largest telecom operators in Spain, and safeguarded the datacenter of a state-owned oil company in India. As a notable honor, Delta's Modulon DPH Series UPS was recognized with the 2013 "Save Energy!" award and nominated as the "Technology of the Year" energy efficient solution by Russian experts who remarked on its excellent technical specifications and high operating efficiency.
With this highly intelligent and integrated UPS solution, Delta's MCIS BU is confident that the Modulon DPH series is the best choice to provide backup power for modern datacenters in this dynamic era of big data.