Precision Cooling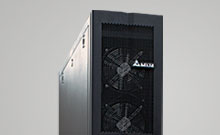 In order to safeguard valuable equipment, preserve data, and offer consistent and reliable performance with few or no interruptions, it is imperative for data centers to maintain a controlled and stable environment at all times. Delta Precision Cooling solutions offer precise temperature and humidity control along with high cooling efficiency.
As an optimized data center cooling system, Precision Cooling distributes cool air evenly throughout the room, preventing some hot spots and counteracting the effects of others. Thanks to intelligent logic control, fan speeds are automatically adjusted when a load change is detected, which saves money by conserving energy. Hot-swap capacity for fans and power modules makes it possible to perform maintenance on the hardware without powering down or compromising the temperature of the room.
In addition to enabling datacenters to maintain precise control over temperature and humidity, Precision Cooling also operates at high energy efficiency, which offers significant benefits to clients by reducing ongoing operational costs.