SunPower Corporation chooses Delta UPS to protect its PV park in Chile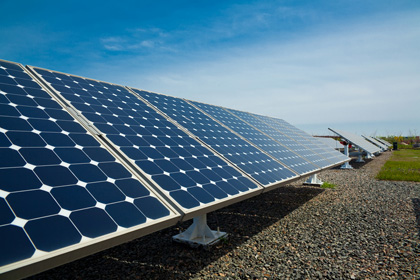 SunPower Corporation is a solar electric systems provider that designs and manufactures high-efficiency crystalline silicon photovoltaic cells, roof tiles, and solar panels, that are based on a silicon all-back-contact solar cell invented at Stanford University. SunPower Corporation is publicly traded on the NASDAQ as SPWR and is a component of the Dow Jones Oil and Gas Index DJUSEN.
Last year SunPower initiated a project to build a photovoltaic park in Copiapo, a city in north Chile. The photovoltaic park is on 133 Ha of land and will supply nearly 70 MW of clean solar electricity. This project must be complete and running the first quarter of 2015. SunPower Corporation requires a cost-effective uninterruptable power system (UPS) with advanced technology to prevent a power failure and a provide stable power supply for operations at its photovoltaic park.
Delta provided 58 sets of the Ultron NT 320kVA Series UPS with 2 strings of 12V 180Ah batteries for a tough electrical environment. With its one-of-a-kind H Bridge Technology and SPWM technology, the Ultron NT series UPS is a true online double conversion UPS system. The product contains a built-in isolation transformer providing complete isolation to the loads.
The association with SunPower Corporation will add to Delta's project credentials and provide another professional reference for solar electric systems. Delta's UPS has successfully provided world-class power protection solution to ensure the continuous power supply of the 133-Ha-photovoltaic park. Delta's expertise in the industry and its leading technology is the key of completing the installation and has been highly appreciated by the customer.