Delta provides leading new energy enterprises in China with UPS support to help the development of new energy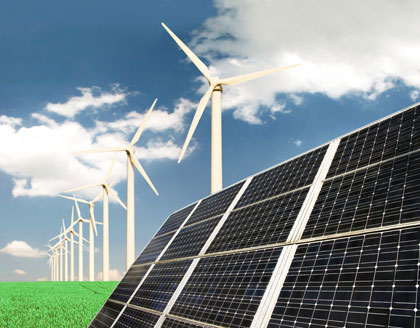 With the conflict of global energy supply and demand, and its effect on the earth's ecology, the popular use of new energies such as solar power and wind energy is seen as a remedy to the problems of traditional energy. However, these new clean energies are greatly affected by environmental conditions and issues such as an unstable power supply and power quality not meeting grid standards. Storage technologies are often required to solve these problems. A certain renowned new energy leader in China has targeted the energy storage market to provide solutions including microgrid systems, small family energy storage systems, mid-sized community energy storage systems, and large energy storage systems. After a rigorous selection process for suppliers, this company selected Delta to supply the supporting UPS for its energy storage systems.
The UPS selected for the new energy company's energy storage systems is Delta's N 1-3kVA series small power rating UPS system. The N series UPS is designed with the newest technology, and is targeted especially for key equipment applications in different fields, providing an excellent and reliable power usage environment. Energy storage systems, especially new energy microgrid systems powered by solar power and wind, have had large-scale vigorous promotion by the China government in remote areas and islands that are not covered within the power grid. In such geological environments, a highly reliable supporting UPS systems have become important components of energy storage systems.
Delta's N 1-3kVA series are single-phase UPSs that use online double conversion topological structures, and are able to provide a steady and reliable sine wave power supply. Its output power factor reaches 0.9 with a maximum overall efficiency of 93%. Not only does this allow user electronics to enjoy safe, guaranteed power, it can also lower operational cost. The smart management and communication functions of the N 1-3kVA series along with Delta's UPS management software allow users to easily achieve remote surveillance and management. In addition, its complete battery management function can also help prolong battery life and increase battery performance.
The significant advantages of Delta's N 1-3kVA series UPS include high reliability, high availability, energy-saving and smart management, which has allowed it to easily pass comprehensive quality and performance tests by this new energy enterprise. In addition, Delta provides optional settings according to design requirements of the energy storage system to satisfy user demand for manual adjustment of the voltage system and frequency. Delta's N 1-3kVA series UPS is not only for China. It can adapt to different types of global standard grid environments, which make it the best choice for the energy storage system of this new energy enterprise in providing its global standardized products.