2015.12.23
Delta Wins Best Data Centre Infrastructure and Manufacturing Solution Vendor of the Year Award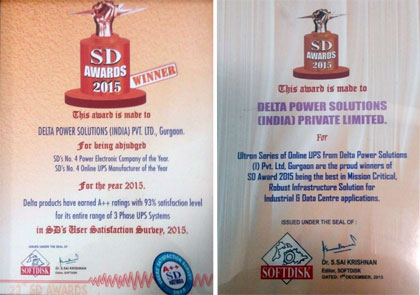 Delta Power Solutions, a global leader in power and thermal management solutions and a pioneer in power management solutions, bagged the Soft Disk award for their
Ultron DPS Series
in the category of Best Manufacturing and
Data Centre Solution
Vendor of the Year at an award ceremony in Bangalore. Soft Disk, the leading B2B magazine in India, organized its 23rd annual SD UPS Award 2015 in Bangalore on 13 December, 2015.
Delta's Ultron Series are three-phase UPS systems for power rating requirements above 10kVA to 4000kVA that support mission critical applications including industrial equipment, datacenters, traffic control facilities, broadcast stations and backbone networks.
Attended by the IT industry's leading managers and channel partners, the event saw the participation of vendors and ecosystem partners in various categories. The event highlighted the importance of the future IT business, how IT has enabled young consumers and how IOT will change the IT landscape in the future.
Among the attendees were representatives from vendors, partners, the Department of Electronics and Information Technology, Government of India, NIC, BHEL, and more.
This award was given as part of the 23rd Annual SD Award in the presence of many dignitaries and leaders of the corporate world.
"The award function of this event provides motivation to the UPS industry to deliver its best technology and solutions, and to inspire greater innovation in the business," said Mr. Suhas Joshi, Vice President, Delta Power Solutions.