2015.05.01
Delta Electronics plans to expand its collaboration with the city state after receiving the 2015 Green Luminary Award in recognition of its commitment to sustainability.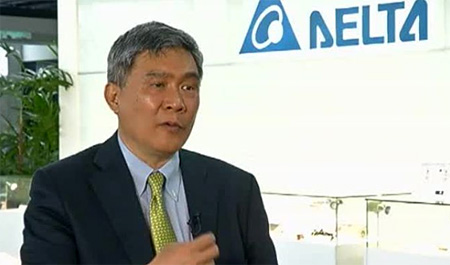 Extracted from Channel NewsAsia.com
Delta Electronics in Taipei is among Asia's top businesses and entrepreneurs recognised at Channel NewsAsia's annual Luminary Awards. Now in its fifth year, the Luminary Awards is aimed at inspiring and motivating the business community to achieve excellence in their respective fields.
Delta Electronics scooped the 2015 Green Luminary Award at the awards. As a world leader in power and thermal management solutions, the company invests 6 per cent of its total revenue into developing energy-saving products and solutions every year.
Its Chairman Yancey Hai said the efficiency of its energy management products has exceeded 90 per cent. "From 2010 to 2014, because of our efficiency increase, the total energy saving for the whole world is close to 15 billion kWh of electricity," said Mr Hai.
It has also reduced about 8 million tons of carbon emissions globally, which is equivalent to carbon emissions from two and a half millions cars a year. Now Delta is stepping up on its efforts in developing green buildings, including its own office buildings.
At Delta's research and development centre in Taoyuan, solar panels on top of the building are part of the centre's saving solutions. These are aimed at reducing energy usage here by 50 per cent.
That will help reduce carbon emissions by as much as 1,000 metric tons and save the centre more than US$160,000 a year. A real time system tracks how much energy is being used in different parts of the building, while its water saving devices and rain water collecting system reduce up to 75 per cent of water use a year.
Currently, Delta has constructed 11 certified green buildings around the world, saving more than 11 million kilowatt hour a year. "We've developed a building automation and building energy management system to use for buildings," said Mr Hai. "For example, lighting control, where you have to change the lighting from the traditional bulb to new LED lighting."
Currently, Delta operates 57 research and development centres around the world, including Singapore. It is hoping to further expand its collaboration with the city state, especially in biomedical technology.
"Singapore is the hub of Southeast Asia, so we're going to use Singapore as the regional operating centre," said Mr Hai.
In addition to Southeast Asia, Delta is planning to broaden its presence in Europe and the US. Its recent acquisition of Eltek, a Norwegian power conversion specialist, at US$530 million its first major step in going global.