2015.02.06
Delivering energy savings in China - Delta CIO Yikuan Li shows us his Shanghai data center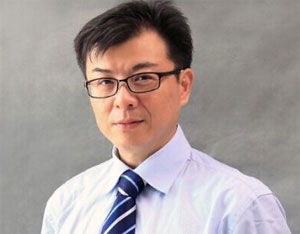 Article source: Datacenter Dynamics
The Chinese government has directed data centers to reduce their PUE. Datacenter Dynamics spoke to a power management expert which used multiple cooling technologies and DC power supplies to bring its Shanghai facility up to scratch.
With more and more Chinese consumers using smartphones, tablets, and other smart devices, more and more data centers are being built for meeting their growing demand for data storage, processing and transmission.
However, data centers are energy-intensive. It is estimated that data centers currently account for about 3 percent of global energy consumption.
Data centers in the five year plan
To alleviate the dual pressure of power supply and environmental degradation, China's Ministry of Industry and Information Technology (MIIT) is demanding more efficiency. The country's twelfth Five-Year Plan includes an energy saving aspect which demands that data centers in China shall decrease their power usage efficiency (PUE) by 8 percent by 2015.
MIIT has also issued guidelines for data center location, together with four other Ministries, and there are incentives to improve. Newly built data centers with a PUE lower than 1.5, as well as revamped facilities achieving a PUE of lower than 2.0 are eligible for preferential policies in terms of power infrastructure construction, power supply and other supported services.
Data center energy efficiency directly affects the costs of data center owners, operators and users in China, and it is also a key priority at the government level in the country. In response, data center vendors have rolled out energy-efficient solutions to address this concern.
Power management firm Delta launched a data center product line in 2008, and since then the company has been building energy-efficient data centers for data center customers. But how faqr does it trust its own products? Is it using them itselft- and getting the benefits it promises to its customers?
Datacenter Dynamics visited Delta's own data center, hosted in the company's Shanghai site and interviewed Yikuan Li, the chief information officer (CIO) of Delta GreenTech China to explore Delta's approach to build highly energy-efficient data centers.
Planning and selection
Mr Li believes highly energy-efficient data centers involves sophisticated planning in site selection, construction, operation and maintenance, among others.
It starts with picking a location: "When famous IT giants such as Google and Microsoft source sites for large data centers, they will firstly evaluate whether they can get good investment returns from the energy efficiency perspective from such sites. If they choose to build data centers in places which are very hot and can't ensure reliable power and water resources supplies, important energy efficiency indexes will all suffer," he told Datacenter Dynamics.
Oversizing is another common cause for high energy consumption of data centers. "For instance, while designing a data center of 20 racks, the planning staff may reserve space for another six or seven racks to accommodate future business development. However, with constant improvement of server performance, and growing application of new technologies such as virtualization and cloud computing, most data centers are still oversized, which may lead to the requirement of cooling areas without IT equipment, hence causing more energy consumption," Mr Li explained.
Raising operational temperature is also a hot topic discussed by data center professionals for enhancing energy efficiency. Since the ASHRAE 9.9 Technical Committee rolled out new thermal guidelines for operating data centers, many data center operators began to raise operating temperature to save energy. Mr Li said this is also one of the key factors to be taken into account for enhancing energy efficiency.
"Servers in traditional data centers operates at 18~22℃. This is too low from the technology development perspective. It's like turning on an air conditioner in summer, if the temperature is set at 18℃, compressors will keep on running with high workloads, which results in high energy consumption. Practical experience tells us that highly efficient data centers, including data centers deployed in high density, can operate at 25~27℃ without compromising safety. Raising operating temperature can help to reduce energy consumption, the cooling energy consumption in particular."
High voltage direct current
He also points out the power supply and distribution system has remarkable impact on data center energy efficiency: "Though some data centers have invested money and time to deploy precision air conditioning units and variable-frequency compressors, they are still using traditional UPS systems with low efficiency; if such inefficient UPSs are replaced with highly efficient ones(94 to 95 percent), unnecessary power consumption in power supply and distribution can be avoided."
Mr Li is optimistic about the efficiency benefits brought about by high voltage direct current (HVDC) technology. As servers are replaced faster than before, they can have good compatibility with HVDC technology. "Currently, three major domestic telecommunication operators have deployed HVDC in their large cloud data centers, which helped to enhance energy efficiency in power supply and distribution systems," he added.
As a green data center solution provider, Delta has been committed to building energy-efficient data centers for itself to support the development of its own business.
Delta has R&D centers and manufacturing plants in mainland China, Taiwan, the United States, Thailand, Japan, Singapore, Mexico, India, Brazil and Europe. To support the development of its global business, the group has built data centers across the world by using its own data center solutions.
Delta's in-house learning
Within the Greater China region, Delta operates data centers in Shanghai in East China, Dongguan in South China, and Taipei in Taiwan. Such facilities are mainly used to support the operation of internal ERP systems, mail systems, network systems, file systems, among others.
Within such data centers, Delta utilizes many energy-saving measures including energy-efficient modular UPS, hot and cold aisle containment, racks with high perforation rate, variable fan speed control system, chiller systems. In addition, free cooling can be introduced in accordance with local weather conditions.
The data center hosted within Delta's Shanghai Operation Center is a medium-sized one among all the facilities owned by the Group. It runs 132 servers and hosts 250 kinds of applications including business automation, ERP systems, mail systems, document services, conferencing systems and telephone systems for supporting internal business operations.
In 2012, Delta Group revamped the Shanghai facility by deploying its own InfraSuite data center solution, which integrates cabinets, in-row air conditioners, monitoring software, and power supply and distribution systems.
Mr Li said the biggest highlight of the renovated facility is its ability to switch automatically among three cooling systems—heat exchangers (free cooling) , air-cooled systems and chilled water systems in accordance with environmental conditions, a mechanism which makes the facility more efficient.
Pick the best cooling
"When the outdoor temperature is less than 18℃, heat exchangers will be enabled automatically; when the temperature stays at 18~30℃, air-based cooling systems will be used; and when the temperature reaches 30℃, water-based cooling system will take over all the workloads. The three cooling systems offer redundancy for each other—air-based systems offer redundancy for heat exchangers, and water-based systems offers redundancy for air-based cooling systems."
Delta's Shanghai data center mainly uses heat exchangers for cooling in winter, which lasts about 4.5 to 5 months. Water-based cooling systems are used for about 2~3.5 months each year, and for the rest of the year, air-conditioning systems take over.
"The duration of each system used for cooling depends on weather conditions of that year. For example, in 2013, when Shanghai had a hot and long summer, the water-based cooling system was used for a longer time. However, in the summer of 2014, it was not so hot and did not last that long, and then water-cooled systems were not used for that long."
Mr Li told us that through this renovation, Delta' Shanghai data center has achieved multiple variable-frequency control for cooling capacities. "Our Shanghai data center has deployed an automatic cooling mechanism which combines programmable logic controllers (PLCs), Variable-frequency Drives (VFDs), and indoor and outdoor temperature sensors."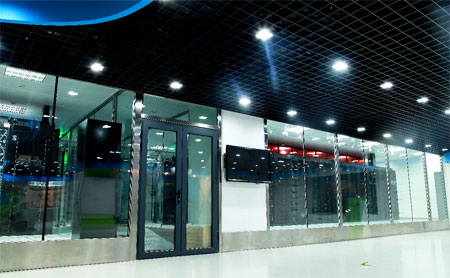 One of the three cooling systems will be initiated automatically (in accordance with environmental conditions) as predefined. Chillers and pumps will also vary frequencies automatically in accordance with environmental conditions, and runs at 100%, 2/3, 1/3 power capacity or even runs idle for ensuring the maximum energy efficiency.
Delta has also deployed power solutions combining HVDC and highly efficient UPS. "This data center runs both HVDC and highly efficient UPS in an Active-Active Mode, with 10 percent of servers powered by HVDC and 90 percent by UPS. This also helps to save energy to a certain extent," he told Datacenter Dynamics.
By combining the three cooling systems, hot and cold aisle containment technology, highly efficient UPSs, data center infrastructure management software (DCIM), and low-energy LED lighting systems, the Shanghai data center achieves a PUE of about 1.43 throughout the year, according to Mr Li.
"Through this renovation, the energy consumption of the data center in Delta's Shanghai Operation Center has decreased from 17% to 11% of the total energy consumed by the whole building. This is a remarkable achievement since this building has already got LEED Gold Certified," he said.