2015.09.25
Delta Electronics Opens its First Training Center in Russia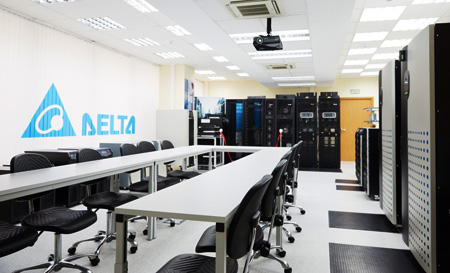 Delta Electronics, a leading provider of switching power supplies and uninterruptible power supply (UPS) solutions, announced the opening of its first training center in Russia at a press conference today at the Novotel, Moscow City. The center opening coincides with the 10th anniversary of Delta Electronics' entering the Russian market.
Russia is the fifth country to have a Delta training center, which demonstrates the importance of the Russian market to the company. Until recently, there were only four Delta Electronics divisions that provided education services to clients around the world.
The training center displays a wide range of Delta Electronics UPS solutions including the Amplon, Ultron and Modulon Series, as well as a prototype of the Delta Infrasuite datacenter infrastructure solution, and RowCool precision cooling. Delta Electronics is planning to conduct training for local staff that will improve their theoretical and practical knowledge on how to implement the company's solutions.
"Opening our first Russian training center has been a long road. It is incredibly important for us to establish an accurate integrated system for training our partners. That is why, at the preparation stage, we were actively interacting with our European colleagues, adopting their practices and devising the programs for training workshops and courses. Also, we regularly conducted offsite training," said Mikhail Sazonov, service manager at Delta Electronics Russia and CIS. "We are sure that attending courses and certification will become much easier for our partners now, the latter will not only indicate a high level of competence, but will also enable carrying out commissioning work, and providing independent maintenance for our products and full technical support."
The presentation of the new training center was attended by: Peter Bigler, the head of sales for Delta MCIS EMEA; Marat Fayrushin, general director at Delta Electronics; Mikhail Grebennikov, business line manager MCIS (UPS, Datacenters) at Delta Electronics; Mikhail Sazonov, service manager at Delta Electronics as well as representatives from Delta Electronics distributors Tempesto, Landata and Spectr RS.
"The opening of the training center is an extremely important and anticipated event for us. The fact that it was Russia hosting the fifth Delta Electronics center is another sign of the company's interest in the Russian market and its plans for development in this particular region, despite the challenging economic climate," stated Mikhail Grebennikov, business line manager MCIS (UPS, Datacenters) at Delta Electronics. "We expect staff training at this center will not only allow them to get a better understanding of the company's solutions, but will also bring them skills needed to provide the best maintenance for Delta Electronics products."
During the event Peter Bigler, the head of sales for Delta MCIS EMEA, shared the company's current facts and figures, as well as plans and main development lines for the short-term: "In the second quarter our operating profit amounted to $5.5 bln whereas net profit was $3.8 bln which equals the performance in the first quarter, so it is safe to speak of some stabilization in the market. At the present moment Delta Electronics is actively investing in developing product lines for datacenter, telecommunications and industrial energy-saving solutions. That is why Russia is extremely important for us as this is a country where solutions for these areas are much in demand."