Familias de productos SAI
SAI de Delta - Familia Amplon
1 kVA o más
SAI monofásico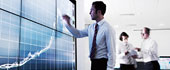 SAI de Delta - Familia Ultron
10 kVA o más
SAI en línea trifásico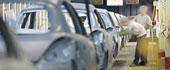 SAI de Delta - Familia Modulon
20 kVA o más
SAI modular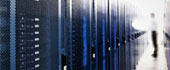 UPS de Delta - Familia Amplon
1 kVA o más, UPS monofásico
En la línea de productos UPS de Delta, la familia Amplon está compuesta por sistemas UPS monofásico que satisfacen requisitos de potencia superiores a 1kVA, entre los que se incluyen los dispositivos de red de tamaño medio y pequeño, los sistemas de seguridad y vigilancia y los sistemas POS. La palabra Amplon (del inglés Ample + on), representa amplia estabilidad, característica que describe este sistema UPS: maximiza las ventajas de espacio y económicas. Los sistemas Amplon son la solución de administración de energía perfecta para pequeñas y medianas empresas, como por ejemplo institutos financieros, departamentos gubernamentales y centros médicos, y ofrecen la solución de protección de energía con las máximas ventajas de espacio y costo.
La serie Amplon N es un UPS de doble conversión y en línea verdadero que puede proporcionar a su carga crítica, energía confiable con una onda senoidal estable. Ofrece ventajas significativas, incluyendo un factor de potencia de salida de 0.9 y una...
more

La serie Amplon R es una familia de UPS doble conversión para usar en rack o torre que suministra energía senoidal confiable para tus equipos críticos de IT o datacenter. Esta serie de UPS tiene en su salida factor de potencia 0,9 y excelente...
more

La serie Amplon RT 1-3kVA consiste de SAI en línea, doble conversión con salida sinusoidal pura para respaldar tus sistemas críticos. Ella ofrece soporte a computadoras personales, red, servidores, VoIP e telecomunicaciones. La serie Amplon RT...
more

The Amplon RT series delivers double-conversion on-linetechnology, high power density and input power factor,and low current harmonics with its advanced architecture.Designed in a rack or tower configuration with an LCDdisplay,...
more

La serie Amplon RX 1-3kVA es un UPS de doble conversión en línea verdadero, que proporciona una potencia senoidal constante a su equipo crítico. Cuenta con un factor de potencia de salida de 0,9 y una eficiencia de CA-CA de hasta un 90%...
more