Familias de productos SAI
SAI de Delta - Familia Amplon
1 kVA o más
SAI monofásico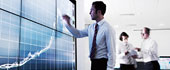 SAI de Delta - Familia Ultron
10 kVA o más
SAI en línea trifásico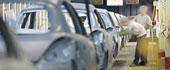 SAI de Delta - Familia Modulon
20 kVA o más
SAI modular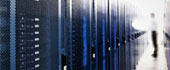 UPS de Delta - Familia Ultron
10 kVA o más, UPS en línea trifásico
En la línea de productos UPS de Delta, la familia Ultron está compuesta por sistemas UPS trifásicos que satisfacen requisitos de potencia superiores a 10 kVA, entre los que se incluyen las aplicaciones para misiones importantes, como por ejemplo equipos industriales, centros de datos, instalaciones de control del tráfico, emisoras de transmisión y redes troncales. La palabra Ultron (Ultra + on), significa rendimiento máximo, lo que describe las características de este sistema UPS: estabilidad y seguridad extraordinarias para aplicaciones de misiones importantes.

El UPS Ultron serie DPS de 300 - 1200kVA superior de Delta soporta el factor de potencia de salida de la unidad para distribuir hasta una capacidad de potencia de 10 MW y satisfacer las demandas de las ubicaciones y de los grandes centros...
more

La serie DPS Ultron de Delta es una UPS trifásica de doble conversión y rectificador con IGBT. Con tecnología avanzada TLI (Triple Level Inverter) y topología con PFC trifásico (Power Factor Correction), el DPS UltrOn ofrece características lideres...
more
The Ultron EH series is a true online double-conversion 3p-1p UPS which provides reliable power protection for IT rooms, SMBs, telecommunications, banking, medical facilities and industry. With an advanced DSP controller, it offers rapid computation...
more

El último HPH Gen.2, 20-40 kVA ofrece una huella compacta con PF de salida a tasa completa a 40 grados para optimizar el tamaño del UPS. Asegúrate de que el PF de entrada 0,99 y iTHD sea menor al 2 % para máxima compatibilidad con fuente total...
more

Ultron HPH es un verdadero UPS de doble conversión en línea que ofrece la mejor combinación de potencia máxima disponible, eficiencia energética inigualable y rendimiento energético superior en su clase, para pequeños centros de datos y otras...
more

La nueva serie Ultron HPH de 160-200kVA es la mejor linea de UPS true online doble conversión en su categoría y ofrece la mejor combinación de alta eficiencia energética con rendimiento superior para datacenter, pan-IT y otras aplicaciones...
more

The Ultron NT series is a three phase UPS featuringcustomized I/P-O/P ratings for various applications. WithN+X parallel redundancy or expansion, it guarantees highavailability and reliability for your critical loads.
more