Delta Amplon RT Series 5-20 kVA UPS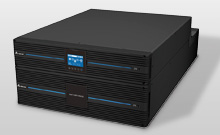 Small Size with Smart Design! A Reliable UPS System with High Availability and Performance for Small to Medium-sized Data Centers
The Delta Amplon RT Series 5-20 kVA is an online double-conversion UPS systems provide rich features with class-leading density (2U height).
The RT 5-20kVA caters to the latest customer requirement trends for unity power factor, high system efficiency, hot-swappable batteries and parallel configurations. What's more, it is also the first UPS on the market to offer lithium-ion external battery cabinets as standard. Customers can also feel free to choose VRLA batteries for scalable runtime and benefit from flexible battery quantity configurations (16-24pcs) to optimize their battery investment.
The RT series is ideal for edge computing, telecommunications and government where critical applications require power backup with limited space. Considering different application requirements, the RT series offers complete power solutions from maintenance bypass breaker, power distribution box to rack-mount remote power panel to enhance the reliability and manageability of mission critical applications.
* Product specifications vary slightly from region to region.