2023.02.17
Delta Electronics Recognized as Top 100 Global Innovator 2023 by Clarivate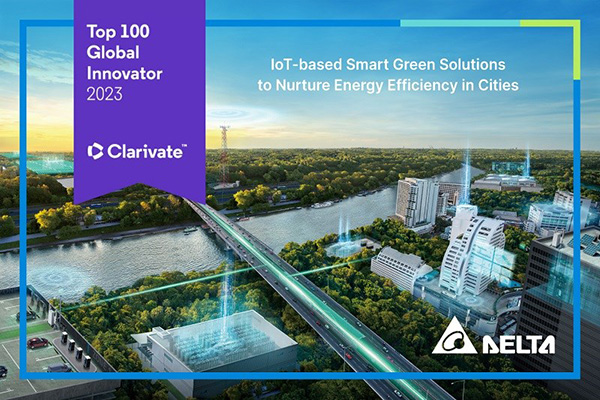 The accolade underscores Delta's world-class innovation capabilities
Delta, a global leading provider of power and thermal management solutions, today announced its has been honored for the second consecutive year as one of the Top 100 Global Innovators™ (2023) by Clarivate for its superior innovation and patent intellectual property portfolio. As of the end of 2022, the total number of patents approved for Delta exceeded 15,000 mainly in the United States, mainland China, Taiwan, Europe, of which 1,070 patents where approved in 2022 alone.
Gordon Samson, Chief Product Officer, Clarivate, said, "We congratulate Delta Electronics for being named a Top 100 Global Innovators for two years in a row. Delta Electronics shows consistent, above-the-bar innovation performance, especially the success of its patent applications as intellectual assets in the market. Together with all Top 100 Global Innovators, Delta fully appreciates that innovative ideas and solutions to current challenges not only bring rewards to its business but foster genuine improvements in society."
Ping Cheng, Delta's Chief Executive Officer, said, "We are quite pleased to receive such a prominent recognition for Delta's R&D endeavors for two years in a row. As a word-class corporate citizen committed to energy conservation and sustainable development, Delta leverages its focus on R&D-based innovation and its prowess in power electronics, infrastructure, and automation to provide innovative, clean and energy-efficient solutions. In regards to our patent portfolio, Delta has deeply cultivated patent assets in its worldwide R&D centers, manufacturing sites, and major markets to optimize its competitiveness. Looking at the growth trends in India and Southeast Asia, Delta will continue accelerating its related portfolio there going forward."
Delta's innovative thinking has been deeply rooted in its corporate culture. The Delta Innovation Award has been established since 2008, and the awards for " Intellectual Property" include the "Outstanding Contribution", " Elite Inventor" and " Quality IP Portfolio" to commend individuals or teams for their innovation to construct a patent layout with commercial value. Delta commonly invests over 8% of its annual revenues into R&D and currently nurtures more than 10,000 R&D engineers and 73 R&D centers around the world to foster innovation. In addition, Delta established the Delta Research Center (DRC) in 2013 to respond to groundbreaking technological trends and to enhance its research and development capacity, which focus on smart manufacturing, artificial intelligence, ICT, and life sciences. DRC takes an open collaboration approach to actively collaborate with ecosystem partners from various industrial sectors, government agencies, academia, and research institutions for mutual success.
The Top 100 Global Innovators uses a complete comparative analysis of global invention data to assess the strength of every patented idea, using measures tied directly to their innovative power. For full information on the methodology used to identify the 2023 list, see here.