2021.05.24
Delta's UPS - Ultron Family DPS Series 300-1200 kVA received the 2020 IT168 Technical Excellence Award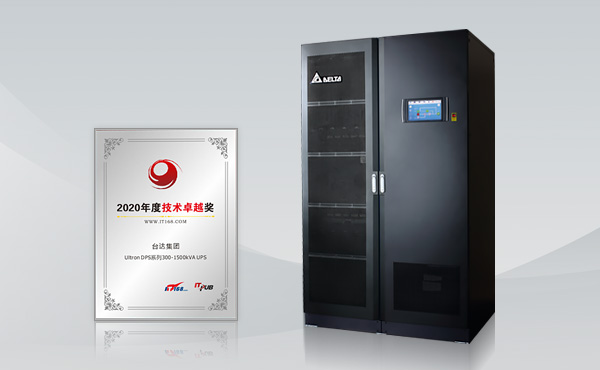 Favored by large data centers and IDC operators for its high power density, small footprint, and high efficiency, Delta's Ultron family DPS series 300-1200 kVA uninterruptible power supply system (UPS) stood out and was given the "2020 Technical Excellence Award" by the domestic leading IT media, IT168. Since 2004, the "Technical Excellence Award" has been successfully held for 16 years. Jointly assessed and selected by well-known industry experts, CIO/CTO, and IT media, its judging criteria reflects the truest voices of technical experts, users, and media. This is also the sixth consecutive time that Delta won the prestigious award in this prestigious event.
The organizer said: "As a global manufacturer for power management and thermal solutions, Delta has industry-leading technologies and expertise for development of power products. The award-winning Ultron DPS series UPS is a product designed to solve pain points for large-scale IDC in terms of space, operation and maintenance, and energy efficiency. In response to the trend of centralized IDC around the world and the needs of future growth and expansion, Ultron DPS series UPS is able to continuously provide excellent power protection, high energy efficiency, and low total cost of ownership, creating value for IDC users."
Delta's Ultron family DPS series 300-1200kVA uninterruptible power supply system (UPS) offers excellent power performance; it is a UPS system with high power density and small footprint (up to 600kVA / m2). Its AC-AC efficiency under ECO mode can reach up to 96.5% and 99%, which significantly saves energy costs, reduces total harmonic distortion (iTHD <3%) of the input signal, thereby lowering the upstream investment.
As a high-availability UPS system for mission-critical applications, the Ultron DPS series utilize parallel redundancy to avoid failure at single points. Its intelligent battery health diagnosis and proactive detection of key components status can greatly reduce the risk arising during downtime. Key parameters and waveform recording support analysis and diagnosis of advanced events, enhancing its capabilities of smart operation and maintenance. Meanwhile, to enable high flexibility and ease of management, the Ultron DPS series features a user-friendly 10-inch color touch screen, full front access, and modular design for key components, which shortens the mean time to repair (MTTR), making it a new-generation UPS system that fulfills the requirements for large-scale data centers and data center colocation providers.