InfraSuite Device Master
Introduction
InfraSuite Device Master provides a rich set of capabilities that simplify and automate critical device monitoring. It allows users to observe the status of all devices, query event logs or history data, and assists users in taking appropriate action. With cost effective deployment, this software solution is scalable to match your business growth.
Benefits of InfraSuite Device Master
Free to Download
InfraSuite Device Master is free to download with 5 nodes by default for monitoring your devices. Various infrastructure facilities such as power and cooling in a data center can be monitored.
Real-Time Monitoring
Users can gather the latest status of critical facilities in a data center through the system screens of InfraSuite Device Master. InfraSuite Device Master also lets you view all of a site's device information, query history and events at the same time, even for multiple sites in different countries.
Easy to Deploy
The download file is ready on the Delta Software website. InfraSuite Device Master is easy to install on your server or PC, with software designed for quick installation and implementation.
Migration to InfraSuite Manager (DCIM)
If you are not only looking for device monitoring but also a complete DCIM solution, InfraSuite Device Master is the easiest way of migrating to InfraSuite Manager, which is Delta fully featured DCIM software solution.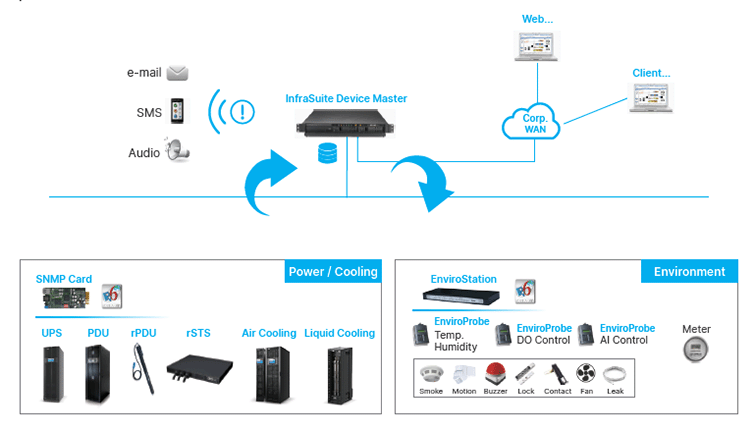 ▲ Delta InfraSuite Device Master Monitoring Application
Product available regions :
| | | | | | | | |
| --- | --- | --- | --- | --- | --- | --- | --- |
| EMEA | North America | South America | SEA | India | China | Taiwan | South Korea |
| ● | ● | ● | ● | ● | ● | ● | ● |
For region-specific product details and variations in specifications, please download the local leaflet or visit the local website.