Busway System - BL Series, 400A-6400A
Introduction
Product available regions :

EMEA, North America, South America, SEA, India, China, Taiwan, Korea




Because product specifications vary slightly from region to region, please download your local leaflet or visit your local website for detailed product information.
A Flexible, Safe, and Reliable Low Voltage Power Distribution Solution
The Busway BL Series from Delta are made from epoxy using vacuum casting. Superior to traditional cables or sandwich type busway solutions, Delta's Busways significantly improve the protection ratings, safety and reliability of products, are ideal for use in harsh environmental conditions, and can be extensively applied to a range of industries. Thanks to the outstanding electrical and mechanical properties of resin, these busways have reduced dimensions, a simplified structure, extended service life, and improved reusability. More importantly, Delta's Busways provide excellent energy-savings to help our customers enjoy substantial savings on their electricity bills.
Customer Value
Flexible modular design allows easy disassembly, reconstruction, and expansion as well as high re-usability
Excellent safety, as well as waterproof, dustproof, fireproof, shock-proof, and corrosion-proof
Certified according to market-specific or customer-specific needs, such as by the IEC, CNS, GB, and others
Highly compact
System Architecture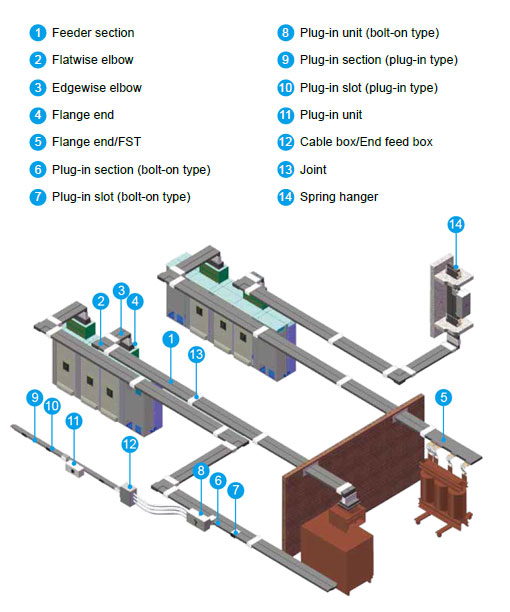 Applications
With the rapid growth of global IT industry, factories are built to increasingly large scales. This adds to the demand for quality power supply, safe power transfer and efficient systems, as well as greater expandability. As busway development has reached higher levels of reliability, safety and flexibility due to fast delivery and flexible engineering changes, busways are now used extensively in a variety of industries.
In addition to power transmission/distribution, Delta's Busways also feature high protection ratings and are ideal for harsh environmental conditions and mission critical applications required high reliability and safety.
| | | | | | | |
| --- | --- | --- | --- | --- | --- | --- |
|   | Emergency, outdoor applications | Petro-chemistry, marine, oil & gas | Critical equipment, datacenters | Electronics, semiconductor, wafer fabrication | Water treatment | Wind farms |
| Waterproof, dustproof IP68 | ● | ● | ● | ● | ● | ● |
| Fireproof and burning-proof | ● | ● |   |   | ● | ● |
| Explosion-proof | ● | ● | ● | ● | ● | ● |
| Resistance to chemical corrosion | ● | ● | ● | ● | ● | ● |
| Shock-proof |   | ● |   | ● | ● | ● |