The world's leading data center provider trusts Delta's solutions for its MW data center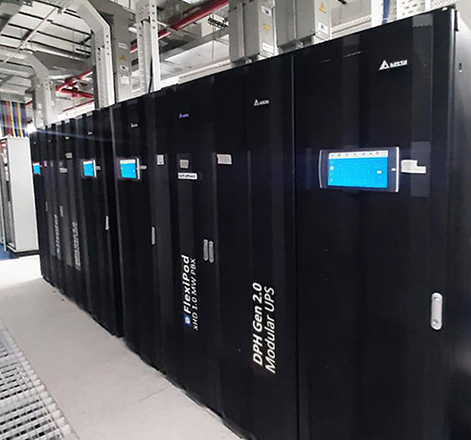 According to the published research, the global data center market investments expected to reach ~$200 billion per annum by 2025. India is also expected to get a share in this growth with investments in the country expected to reach ~$5 billion per annum by 2025, which is primarily driven by growing internet penetration, increased cloud adoption, the government's digitization initiatives and the push towards localization. A Japanese telecommunications company that enables business outcomes for clients through global managed services for networking, data center, cloud infrastructure, cybersecurity, and cloud communications, chose Delta for its smooth power functioning.
Delta Electronics assisted one of the largest integrated ICT solutions and services companies in India. The company offers end-to-end solutions with a comprehensive range of products, and delivers over a common telecom data network infrastructure that reaches more than 1600 cities and towns. For their Mumbai project, Delta installed a UPS configuration of 1 MW, 28 numbers. The floor based installation included the second, third and fourth floor at 8 MW, and the eighth floor at 4 MW. Delta installed its DPH UPSs with 60 kW power modules, which are fully modularized with a hot-swappable design, to meet the project's requirements.
Major data center solution players were all involved in this competition, but it was Delta that won the client's trust and confidence. For this hyperscale data center application Delta was able to solve many challenges with significant value engineering propositions for lower MTTR, lowest TCO, smallest footprint, and highest redundancy and availability.
Delta's UPS solutions provide "The power behind competitiveness" to make our customers' businesses more competitive. We fulfil this role by providing highly reliable and efficient power management products and data center infrastructure solutions to ensure the continuity of our customers' mission critical operations while reducing their Total Cost of Ownership (TCO). Delta is a highly capable and trustworthy partner for our customers.
Delta provides Datacenter Infrastructure Solutions include: power systems, racks and accessories, precision cooling and environment management systems. We support our customers in building customized, reliable, flexible and energy efficient data centers with power usage effectiveness.