Delta's green data center in Wujiang to achieve gold level standard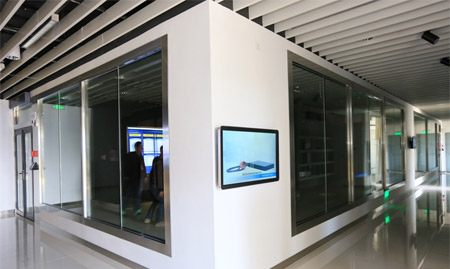 Delta has announced the green data center of its R&D and manufacturing center in Wujiang, China, will soon meet the gold level standard defined by Green Grid. With Delta Greentech China responsible for the overall proposal and design the data center uses complete set of Delta's own products. Since it was inaugurated in October of 2015, the green data center has reached monthly power usage effectiveness (PUE) of 1.27 on average. Delta expects that the enterprise-class data center will have a yearly average PUE lower than the golden goal of 1.3.
The current showroom at Delta's Wujiang R&D and manufacturing center was chosen as the site for the new data center, where the data room and display functions are combined into one. After on-site surveys and based on experience from the designs of previous centers, the design team approached the areas of air conditioning, power, rack, and environment management system. They were able to improve and upgrade the design proposal for the new data center to suit the environment.
The data center utilizes Delta's RowCool series air-cooled rack-based precision air conditioning to complement the new energy-saving solution. In winter, the new air-blower is used to induce low-temperature outdoor air for natural cooling. The design has sealed cold and hot passages to help avoid the mingling of hot and cold air, and enhance the efficiency of cooling. The high-efficiency power system, modular racks, and management system achieves green energy efficiency in every way for the entire data center.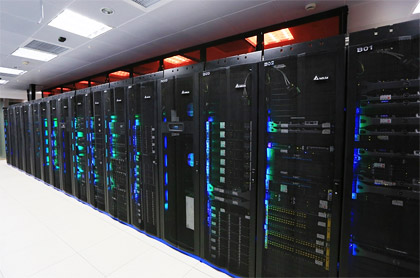 ▲ A design with sealed cold and hot passages is adopted to enhance energy efficiency.
Virtualization of servers was implemented at the beginning of the design process to meet the tremendous need for IT services in China and to reduce energy consumption. This also enhances resource utilization and simplifies management of the system with an integrated server that offers greater flexibility. With the rapid development in IT, the Wujiang data center uses a more comprehensive design in the areas of security, expandability, and continuity.
With the data center as a focal point in the energy consumption of an enterprise, industries have always emphasized how to become green by reducing energy consumption. During the construction of its own enterprise data center, Delta insisted on meeting the gold level standard defined by Green Grid. The gold standard's goal is to ensure efficiency of service rooms, and emphasize reliability, expandability, and sustainable development of the data center. Delta demonstrates its strong capabilities in providing green data center solutions with the completion and inauguration of the Wujiang data center.