Delta Implements InfraSuite Datacenter Infrastructure Solutions to Improve Datacenter PUE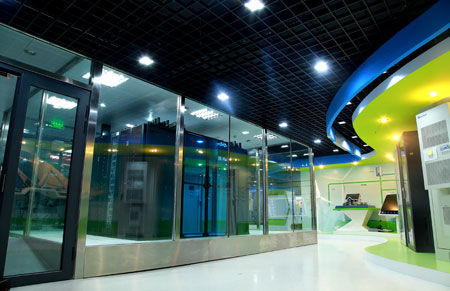 To demonstrate the performance and competitiveness of its datacenter solutions, Delta enlisted its own Taipei Neihu office and its China offices in Shanghai and Dongguan to install and showcase its InfraSuite Datacenter Infrastructure Solutions. The success of these offices displays the many advantages of this industry-leading datacenter solution.
As the internet and cloud computing services develop, enterprises need to update and expand their data centers and related facilities. How to establish a reliable and highly efficient operation has become the leading issue for IT management. With 40 years of technical expertise, Delta has developed the InfraSuite Datacenter Infrastructure Solutions system, which includes power management, precision cooling, racks & accessories, and a comprehensive environment management system. Delta's InfraSuite system is the first choice for enterprises building environment-friendly and energy-saving data centers with high reliability and flexibility.
With the company's goal of achieving gold level power usage effectiveness (PUE), Delta used a new concept in datacenter design. The datacenters were sectioned according to different applications with cold/hot aisle separation and air flow management, cooling was placed closed to load and an environment management system was adopted. At all three datacenters Delta installed modular server racks, precision cooling, and modular uninterruptible power supplies (UPSs) based on their specific needs. Each location received a new generation datacenter to meet its requirements with high reliability and scalability.
The data centers located in Neihu, Shanghai, and Dongguan have shown a significant improvement in their PUE performance. The PUE values for most datacenters typically lie between 2.0 and 3.0. In contrast, the three Delta corporate datacenters that adopted the InfraSuite Datacenter Infrastructure Solutions have reached an outstanding average PUE of <1.6. Delta will continue to optimize the efficiency of its integrated InfraSuite Datacenter Infrastructure Solutions to offer users a substantial reduction in datacenter operating costs and power expenses.
By implementing its own InfraSuite Datacenter Infrastructure Solutions, Delta has provided an excellent example for enterprises that require optimum solutions for long-term datacenter operations and management.