2012.07.27
Delta Electronics Introduces Modulon DPH Modular UPS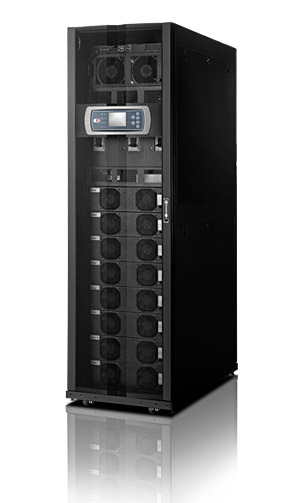 ■ The Modulon DPH is designed for ultimate availability, excellent performance
   and high efficiency ideally suited for medium-sized datacenters..
To provide the ultimate availability to data center mission critical operations and right-size the data center investment.
Delta Electronics, the world's leading provider of switching power supplies and DC brushless fans, as well as a major energy saving solutions provider in many fields, today announced the introduction of Modulon DPH which is a three phase UPS with modular architecture by its MCIS (Mission Critical Infrastructure Solutions), a business unit of Delta Electronics and a specialist in sustaining mission critical operations. Scaling from 25kW up to 200kW in a standard 19" rack enclosure, the Modulon DPH supports ultimate availability for data center operations and provides the benefit of "pay as you go" without over-sizing the UPS. While achieving ultimate availability, the Modulon DPH does not compromise on power efficiency performance. When availability, efficiency and expanding according to business needs are essential, the Modulon DPH is the ideal UPS system to provide power protection and total cost ownership (TCO) savings.
"As the world is highly IT dependent, the data center now is a critical engine driving business operations. To ensure operation continuity, the first concern is to maximize the availability of the data center and the UPS is critical for power," said Dr. Charles Tsai, general manager of MCIS business unit, Delta Electronics.
The Modulon DPH is a fully fault-tolerant design achieved by self redundancy of the power module, control mechanism and aux power. Full control logic allows the system to self-synchronize in the event of main module failure and automatically switch to a backup for assured continuous operation. Further advantages, such as hot-swappable functionality of critical components and modules can improve the serviceability of the UPS system thereby reducing MTTR close to zero and assuring maximum uptime and ultimate availability in the data center.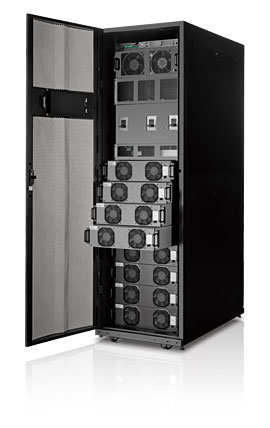 ■ Hot-swappable key modules and components to ensure Mean Time
   To Repair (MTTR) close to zero without downtime risk.
"As the amount of data grows, the expansion of the data center to cope with the growth at the right size at the right time and with the right investment is another critical concern. Delta's standard rack-based modular design of the Modulon DPH allows vertical scaling up from 25kw to 200kw according to power requirements," said Dr. Tsai. The Modulon DPH supports N+X redundancy in a single enclosure without requiring an extra UPS, resulting in huge capital and footprint savings while retaining expansion flexibility on par with business growth. Expansion is achieved by paralleling up to 4 units of the Modulon DPH.
Dr. Tsai stated, "Apart from availability and scalability, power consumption is always an important factor in dealing with operational expense. The baseline is to use power-efficient equipment." As a true online double conversion UPS, the Modulon DPH delivers critical power protection to the data center and the leading power performance in the industry. The overall AC-AC efficiency of the Modulon DPH is 95% at 30% load and 96% at half load, which results in at least 6% more power savings than the legacy model of 92% power efficiency. The full-rated power (kVA=kW) provides the maximum power capacity to the load. Compared to UPS systems with output of PF=0.8 and PF=0.9, the DPH supplies 25% and 11% more power respectively, and eliminates the issues of UPS de-rating to further benefit capital and operational expense savings.
Designed in a 19" enclosure, the Modulon DPH provides rack-based flexibility for data center layout and infrastructure set up. For the critical power of data centers, it can integrate power distribution in the same rack or through the deployment of paralleled rack enclosures depending on power capacity requirements—a perfect combination of power protection and distribution to streamline power management in the data center.
Dr. Tsai said, "The Modulon DPH is ideal for medium-sized data centers and can deliver huge TCO savings. We are proud of its ultimate availability, scalable flexibility and excellent power performance and efficiency. Delta MCIS is confident it can be the best backup power provider and support the growth of business competitiveness."
More DPH Series introduction, please click here.
---
About Delta Group
Delta Group, founded in 1971, is the global leader in power and thermal management solutions. Our mission statement, "To provide innovative, clean and energy-efficient solutions for a better tomorrow," focuses our role in addressing key environmental issues such as global climate change. As an energy-saving solutions provider, Delta's businesses encompass power electronics, energy management, and smart green life. Delta has sales offices worldwide and manufacturing facilities in Taiwan, China, USA, Europe, Thailand, Japan, India, Mexico, and Brazil.
In 2011 Delta was named to two Dow Jones Sustainability Indexes (DJSI): the DJSI World Index and the DJSI Asia/Pacific Index. Delta was also recognized as a Sustainable Asset Management (SAM) "Gold Class Company" and "Sector Mover" in the 2012 Sustainability Yearbook of SAM.
For more information about Delta Group, please visit: www.deltaww.com
About Delta UPS and MCIS BU
Delta's Mission Critical Infrastructure Solutions (MCIS) business unit (BU) has developed a variety of UPS solutions. Positioned as "The power behind competitiveness," the MCIS strives to play an important role in making our customers' businesses and operations more competitive. Our mission is realized by providing highly reliable and efficient power management products, including UPS and datacenter infrastructure solutions that ensure the continuity of mission critical operations and better total cost of ownership (TCO). Delta offers 4 UPS product families.
| | | | |
| --- | --- | --- | --- |
| | Power | Topology | Applications |
| Agilon | Under 1kVA | Single-Phase UPS | PC and Peripherals |
| Amplon | 1kVA or higher | Single-Phase UPS | Server and Network Equipment |
| Ultron | 15kVA or higher | Three-Phase On-line UPS | Datacenter and Industrial Equipment |
| Modulon | 20kVA or higher | Modular UPS | Modular. Unit expansion and redundant power supply can be achieved within a single rack |
More information about Delta MCIS products can be found at www.deltapowersolutions.com.
Media Contact
Sophia Chen
Marketing Communication Manager
Delta Mission Critical Infrastructure Solutions (MCIS) Business Unit
+886 2 8797 2088 ext 6339
sophia.hc.chen@delta.com.tw