2012.05.21
Delta UPS bagged another award for the "Most innovative and energy efficient UPS" from NCN publication.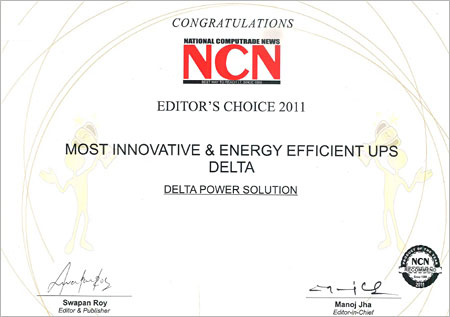 The NCN award night was held at Hotel Surya, New Delhi on 18th May 2012.
All the leading IT Heads and Channel Partners from all across India were present in the event. The event witnessed a footfall of more than 300 visitors.
Delta nominated Modulon NH Plus and Amplon RT for the award and received the prestigious award and certificate for "Most innovative and energy efficient UPS products" for 2011.
The publication is focused on IT & Channel news and has a circulation of more than 45,000 all across India. This is a well known and prestigious award in the IT segment. The event helped Delta gain appreciation among the IT Channel community. This was a useful medium for growing Delta as a brand.
The NCN Award Night was inaugurated by The Hon'ble Chief Guest Shri P.S Narotra, Sr. Director, Department of Electronics & Information Technology, Government of India.
The award–giving ceremony attracted a congregation of more than three hundred guests cutting across verticals of the InfoTech industry, including Vendor, Corporate, SIs and Resellers across the nation and guests from overseas to celebrate the occasion. The award was given on a number of segments, broadly covering hardware, software, networking and solution space.