2012.11.16
Delta Group shines at 2012 China International Industry Fair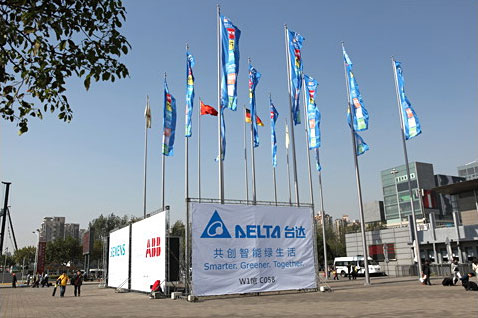 2012 China International Industry Fair (CIIF) is a mega-scale industrial fair and took place in Shanghai China from November 6th-10th. It boasted a large number of participants with more than 1000 companies.
As pleasant autumn sunshine filled the plaza of Shanghai New International Exhibition Center in Pudong, a huge advertising board, exhibiting Delta's unique blue color, stood tall with those from two other global brands, as Delta's "Smarter. Greener. Together." flags fluttered in the wind.
Delta, with almost 300 square meters of exhibition area, was the biggest exhibitor in Hall W1. The logo light box hanging above the exhibition area resembled a blue and white lighthouse, a beacon of high efficiency and reliability. By advanced projection equipment and technology, Delta's brand film and corporate philanthropy documentary were projected onto the main wall to enhance the brand image.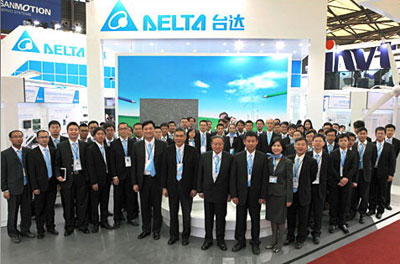 Delta's advanced products and solutions were exhibited to showcase the overall capabilities and scale of Delta Group's achievements and offerings. Our exhibition focused on industrial automation and power management, highlighting its technical integration ability and industry application solutions.
Focus on industrial automation and power management, highlighting technological integration and industrial application
Design of the exhibition area followed the integrated theme of Delta brand as Delta's system solutions integrating products from five major fields— industrial automation, power systems, smart buildings, data centers and monitoring systems. Industrial automation solutions, data center and power supply total solutions were demonstrated onsite, highlighting Delta's transformation from high quality component supplier to the leading brand for highly efficient system integration.
In industrial automation, Delta presented advanced automation system integration solutions, including three major innovative total solutions—industrial automation, motor control and corporate integrated energy-saving. Targeting market demand in mainland China, highly competitive new products were launched, including the AH500 and ASDA-M.
In power management, Delta presented the Ultron DPS 200kVA three phase advanced uninterruptible power supply (UPS), providing high-efficiency UPS solutions for clients. Following the industry trend of IGBT-based UPS and the popularity of the Ultron DPS series, at CIIF Delta announced the launch of new models, the Ultron DPS 300kVA/ 400kVA in China, Taiwan, EMEA, Russia, India and South America.
The spotlight for power management at CIIF this year was the Delta InfraSuite Data Center Infrastructure Solution, which was on display in a "visible data center" located in the middle of Delta's booth. This solution provides one-stop service, features a fully integrated design and scalable system architecture, and helps customers construct green datacenters that can save up to 25% on energy. The Delta InfraSuite solutions demonstrate Delta's commitment to its mission: "To provide innovative, clean and energy-efficient solutions for a better tomorrow".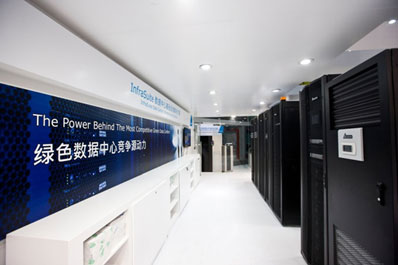 A highlight of the exhibition was the "Delta Intelligent Monitoring and Management System", which won official recommendation of CIIF and was awarded a bronze medal in fierce competition.
In addition, Delta has dedicated itself to implementing green architecture and technology. By documenting the reconstruction efforts for the Namasia Elementary School in Kaohsiung, Taiwan and the Yangguang Elementary School in Mianyang, Sichuan, Delta promotes the advantages of green buildings. The development of intelligent building management systems provides comprehensive energy management tools that enable a perfect union of technology and nature.
Deliberate advertisement campaign and media plan to enhance brand spirit
Before the exhibition officially kicked off, Delta launched a campaign in major print media, such as the Economist, Bloomberg, Businessweek, Caijing, China Newsweek, and CEOCIO. On popular internet portals such as ifeng.com, Delta's messages could be seen on banner ads. In Pudong and Hongqiao airports in Shanghai, Delta also set up light box advertising to greet international visitors.
From arrival at CIIF, visitors could spot multiple exposures of the Delta brand campaign, including flags at main entries, mega outdoor promotion pieces, and advertisements at the greeting hall and plaza. Delta's brand spirit "Smarter. Greener. Together." stood out from among the other global brand names.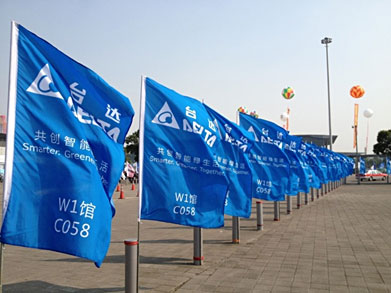 CIIF ended with a success. Delta impressed visitors with not only its strong branding presentation of "Smarter. Greener. Together." but also its integrated solutions with advanced technologies.