2014.03.17
Delta Showcases Green Power Solutions at CeBIT 2014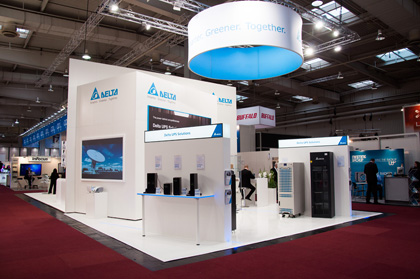 Delta Electronics EMEA displayed a full line of green power solutions at this year's CeBIT, the world's leading IT show, from March 10th to 14th, 2014. The Mission Critical Infrastructure Solutions (MCIS) Business Unit of Delta Electronics Inc. demonstrated a variety of backup power products and data center solutions in the Planet Reseller zone at Hall 15 / Stand F61 with the theme "Green Power Solutions".
As an end-to-end power solutions provider for small and medium enterprises, Delta's MCIS BU introduced a full spectrum of its latest uninterruptible power supplies (UPS), including its Amplon family UPSs (Amplon N 1-3k, GAIA 1-3k, M 1-3k and RT 5-10k) that are energy-saving backup power solutions to support medium to small network devices, security and surveillance systems and POS systems. Delta also showcased its Ultron family UPSs (Ultron EH 10-20k, HPH 20-40k and DPS 60-120k) that are engineered to achieve leading power efficiency for mission critical applications such as industrial equipment, datacenters, traffic control facilities, broadcast stations and backbone networks.
"At CeBIT we showcased a full series of solutions that not only protects the critical operations of our customers, but also lowers their Total Cost of Ownership (TCO)," said Mr. Jackie Chang, President and General Manager of Delta Electronics EMEA. "For example, our Amplon M series UPS is designed with our engineering excellence. With a high output power factor of 0.9 and AC-AC efficiency up to 97%, the Amplon M series UPS is able to lower operation expenses for customers while providing reliable power protection to their mission critical devices."
During the show, Delta's MCIS BU also demonstrated its InfraSuite Datacenter Infrastructure Solutions for constructing highly reliable and energy-efficient datacenters with scalability, modularity, standardization and ease-of-maintenance. In the era of Big Data and the rising demand for data center site construction, Delta's new Datacenter Infrastructure Solution can help enterprises around the world achieve "green datacenters" with more than 25% energy savings.
"Delta's Green Power Solutions had an outstanding show at CeBIT 2014," Mr. Chang pointed out, "Together with our business partners, Delta is providing the power behind the competitiveness for our customers worldwide."