2014.03.27
Delta Group to Demonstrate its Latest Energy-Efficient Solutions for Smart Manufacturing Applications at Hannover Messe 2014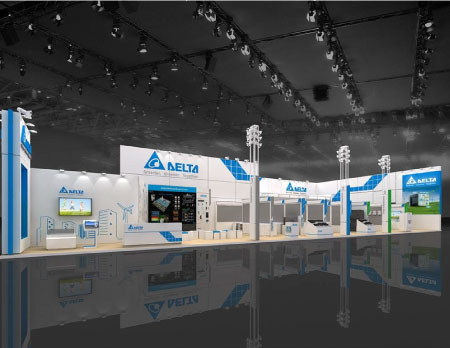 Amsterdam, Mar. 25, 2014 - Delta Group, the leading global provider of power and thermal management solutions, announces it will present a broad spectrum of energy-saving solutions that empower the smart manufacturing trend at Hannover Messe 2014. Delta's cutting-edge technology echoes the fair's theme "Integrated Industry – Next Steps".
Chairman Yancey Hai and CEO Ping Cheng will lead Delta's efforts to promote its energy-efficient solutions for industrial visualization, integrated automation and power infrastructure applications at the world's largest industrial trade fair and highlight the success of these solutions in enhancing the productivity, sustainability and reliability of our customers' manufacturing platforms and facilities across the globe.
Highlights for this year are:
Industrial Automation Solutions for smart manufacturing including machine motion control; industrial machine applications for crane, gantry and packaging segments; power quality systems; industrial communication platforms and process automation (for water treatment). Visitors will have the opportunity to witness live demos of motion control for linear motors and power quality systems.
Building Automation Solutions for Heating, Ventilation and Air Conditioning (HVAC) systems, energy regeneration systems for elevators and the Factory Monitoring and Control System will demonstrate their capabilities in enhancing the energy efficiency of manufacturing facilities and buildings.
Display and Monitoring Solutions include a live demonstration of iPEMS™, a real-time industrial monitoring and management system based in Internet of Things (IOT) technology that leverages Delta's state-of-the-art DVCS® IP-based distributive vision control system.
The Telecom Network Energy Solutions showcase includes the outdoor cabinet LENI with advanced hybrid cooling technology and the DRP 3000B series rectifier with industry-leading 97.3% energy efficiency. Our telecom operator customers across the EMEA region have minimized their capital and operation expenditures by utilizing the aforementioned solutions.
EV Charging Solutions will feature the new-generation AC charger with smart grid capabilities and Delta's DC Quick Charger with 2 in 1 (IEC Combo and CHAdeMO) charging standards which is already present in Europe's growing electric vehicle charging stations universe.
Welcome to visit Delta's stand at A49, Hall 11 between April 7th and 11th. Delta will also host a press conference on April 8th (Tue) 16:00 at the Bonn Room in the Convention Center in which our top management will dialogue with the international media.