2014.10.21
Delta introduces green corporate datacenter design at 2014 DatacenterDynamics Converged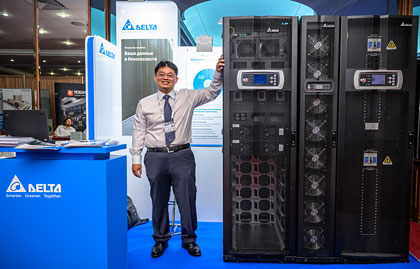 Datacenter renovation in an existing enterprise's office building can be especially troublesome for datacenter architects. Conditions such as space, floor height and availability of outside windows can significantly impact datacenter construction. The
cooling system
, which accounts for nearly half of datacenter power consumption, is the key to building a green datacenter.
Delta's Mission Critical Infrastructure Solutions (MCIS) business unit, with its expertise in power and thermal management, demonstrated how to design a green datacenter for enterprises during the 2014 DatacenterDynamics Converged in Moscow, Russia. In this case study, Delta's datacenter manager, Mr. Eagle Wang, demonstrates sophisticated cooling system methods to use when renovating a green datacenter within an enterprise office building. The key strategies to adopt are: cold/hot-aisle containment, chilled-water type cooling units, variable fan speed control of air conditioners, free cooling, cooling system combinations for datacenter and office building, and temperature setting optimization. Using these methods a renovated datacenter can save 30% of total energy expenses for the enterprise. A highly-efficient and eco-friendly datacenter is the result of implementing this green cooling system design.
Delta received an outstanding response at the DatacenterDynamics Moscow event. Customers and partners visited Delta's booth to understand more about Delta's InfraSuite Datacenter Infrastructure Solutions, which include 4 modules: Power Management, Rack and Accessories, Precision Cooling and Environmental Management System. The interlocking nature of the modules allows companies to implement a fully integrated system architecture. IT managers are able to find the exact tools and capabilities they need to effectively organize the various servers within a company.
With the success of the event, Delta's MCIS business unit is determined to continue its development and promotion of the energy-saving datacenter solution to help more enterprises build green datacenters with high reliability and availability.