2014.11.22
Delta India MCIS bags award for Delta Ultron HPH as the most energy efficient UPS for 2014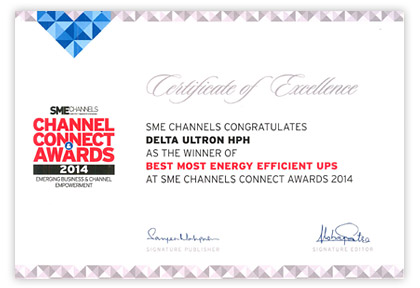 New Delhi, India : Power Solution manufacturer Delta Power Solutions has bagged award in the category for most energy efficient UPS Series:
Delta Ultron HPH Series 20/ 30/ 40kVA
by SME Channels.
The award has been given to Delta Ultron HPH Series for its achievements as one of the world's most energy efficient product for FY 2014. The Ultron HPH is a true online double-conversion UPS offering the best-in-class combination of maximum available power, unbeatable energy efficiency and superior power performance for small data centers and other mission critical applications requiring highly reliable power protection. With fully rated power (kVA=kW); t he Ultron HPH provides maximum available power without de-rating the UPS. Facilitating increased availability through fail-safe design, the Ultron HPH is an ideal solution for protecting your mission critical operations.
The award identifies companies in All India for their outstanding commitment to innovation and energy efficiency. The award night was held at New Delhi on 21st November 2014. All the leading IT companies like HP, Dell, Zebronics, Radware, Ctrl S, SAP etc. and Channel Partners from all across India were present in the event. This is a well known and prestigious award in the IT Channel segment.
The award event helped Delta gain appreciation among the IT Channel community. "As a power management company, Delta gives importance to innovation as it is a business necessity in meeting the needs of our customers and addresses the growing demand of power in today's world" says Mr. Suhas Joshi, Vice President, Delta Power Solutions (India) Pvt. Ltd.
Delta's Mission Critical Infrastructure Solutions (MCIS) business unit (BU) has developed a variety of UPS solutions. Positioned as "The power behind competitiveness," the MCIS strives to play an important role in making our customers' businesses and operations more competitive. Our mission is realized by providing highly reliable and efficient power management products, including UPS and datacenter infrastructure solutions that ensure the continuity of mission critical operations and better total cost of ownership (TCO).