2014.02.10
Delta Changes Course – An interview with Mr. Yancey Hai, Chairman of Delta Electronics Inc.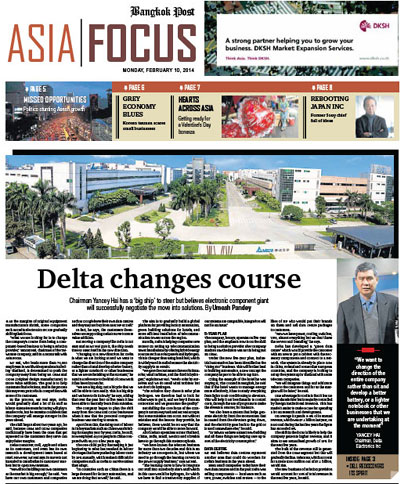 Source: Umesh Pandey, Bangkok post
Chairman Yancey Hai has a 'big ship' to steer but believes electronic component giant will successfully negotiate the move into solutions.
As the margins of original equipment manufacturers shrink, some companies such as Delta Electronics Inc are gradually shiftingtheirfocus.
"What we are looking for is to change the company's course from being a component- based business to being a solution provider," Yancey Hai, chairman of the Taiwanese company, said in a recent talk with Asia Focus.
Mr Hai, who leads more than 70,000 employees in worldwide operations including Thailand, is determined to push the company away from being an OEM and ODM (original design manufacturer) to more value addition. The goal is to help customers find solutions, and in the process this may even put Delta in competition with some of its customers.
In the process, Mr Hai says, Delta would gradually shed a lot of its staff as labour-intensive manufacturing will play a smaller role, but he remains confident that the company will emerge stronger in the years ahead.
The shift began about two years ago, he said, because OEM and ODM companies traditionally have been the ones that get squeezed so the customers they serve can enjoy fatter margins.
Delta counts HP, Dell, Apple and others as its customers, and even has its own research & development team based at Intel. However, Mr Hai says its move is not intended to cannibalise its customers' markets but to open new avenues.
"We will not be killing our own customers as the market is big enough," he said. "We have our own customers and companies such as Google have their own data centres and they may not buy from us or HP or Dell."
In fact, he says, the customers themselves are supporting Delta's move to more value addition.
But moving a company like Delta is not easy and as Mr Hai puts it, the ship needs time to steer itself in the new direction.
"Changing to a new direction for Delta is what we are looking at and we want to change the direction of the entire company rather than sit and develop a better battery, or a lighter notebook or other businesses that we are undertaking at the moment," he says in a reference to the kind of OEM work it has been known for.
"We are a big ship, not a bicycle that we will be able to turn easily. This is a big ship and we have to do it slowly," he says, adding that over the past four or five years it has been able to basically learn from mistakes.
The company began to plan the shift away from the OEM and ODM businesses when it saw that the personal computer business was starting to mature.
Apart from this, the rising cost of labour in its key markets such as China was shrinking its margins year by year. Delta, he said, now employed 40,000 people in China compared with 60,000 a few years ago.
The one-child policy that Beijing is just beginning to relax has resulted in labour shortages that have pushed up labour costs by 20% annually, which makes it difficult for companies such as Delta to survive unless they adapt.
"In countries such as China there is a large demand for factory automation, and we are doing that as well," he said.
The aim is to gradually build a global platform for providing factory automation, green building solutions for hotels, and more efficient installation of telecommunication towers across the region.
In India, Delta is helping companies save money on setting up telecommunication tower installations by offering hybrid energy sources such as solar panels and hydrogen.
This is cheaper than using fossil fuel, which is widely used in India because the electricity supply is so erratic.
"We gave the customers three solutions: solar, wind turbines, and the third is hydrogen," explains Mr Hai. "We do solar by ourselves and we do small wind turbines but we don't do hydrogen.
"The solution they chose is solar plus hydrogen. We therefore had to look for other ways to get it, and we buy it from an outsourcer and we guarantee the quality."
But shifting the core focus of the company is not an easy task and Mr Hai accepts that some mistakes can occur. But without mistakes and the lessons they provide, he believes, there would be no way that the company would be able to move forward.
All of Delta's operations across Thailand, China, India, Brazil, Mexico and Slovakia have to go through this metamorphosis.
"We have known the telecom business for more than two decades and this is an industry we are experts in, but where we need to go through the learning curve is in the power supply business," says Mr Hai.
"The learning curve is how to integrate our stuff into somebody else's stuff which in this case would be hydrogen, for which we have to find a trustworthy supplier. If our systems are compatible, integration will not be an issue."
5-YEAR PLAN
The company, he says, operates on five-year plan, and the emphasis now is on the shift to being a solution provider after company analysts saw the future was not in being just an OEM.
Under the new five-year plan, industrial automation has been identified as the"rising star" business. This will further lead to building automation, a new concept the company hopes to be able to tap into.
Citing the example of the hotel he was staying at, The Conrad in Bangkok, he said that if the hotel wants to manage energy more effectively, it has to study everything from lights to air conditioning to elevators.
This will help it set benchmarks to control costs, through the use of programs to make the elevators smarter, for instance.
"We also have a system that helps generate electricity from the momentum that is caused from the elevators going down, and the electricity goes back to the grid or is used somewhere else," he said.
"In Taiwan we have a smart new building and all these things are helping save up to 50% of the electricity consumption."
DATA CENTRE
Mr Hai believes data centres represent another area that could do wonders for Delta's business in the years ahead.
Even small companies today have their own data centres and in the past Delta was selling components — hardware such as UPS, power, switches and routers — to the likes of HP who would put their brands on them and sell data centre packages to customers.
"Now we have power, cooling, switches, UPS, almost everything but we don't have the servers and branding," he says.
Delta has developed a "green data centre" which would provide the customer with an area to put a cabinet with the necessary components and connect to a network.
The system is already in place now in China, Poland and some other European countries, and the company is looking to set up the system up in Thailand with some telecom companies.
"We will integrate things and add more value to the customers and for us the margins will be fatter," he said.
One advantage for Delta is that it has no major shareholder but is majority controlled by foreign institutional investors. This has made it easier to make a case for spending a lot on research and development.
On average it spends 5-6% of its annual revenue, which was $7.1 billion last year, on R&D and during the last few years the figure has exceeded 6%.
The shift in the focus is likely to help the company generate higher revenue, and it aims to see annualised growth of 10% for the next five years.
The bulk of the revenue still is generated from the OEM segment but this will gradually decline. Telecoms, which account for a mere $350 million out of $7.1 billion, would rise.
The new business of solution provision would account for 10% of total revenue in the next five years, he said.