2014.10.06
Delta's InfraSuite Precision Cooling Qualifies for Chinese Government Energy-saving Product Procurement List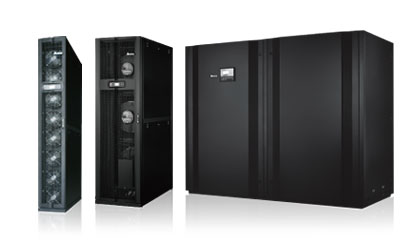 The Chinese Government recently released the 16th edition of its Energy-saving Product Procurement List. Due to their energy-saving performance, Delta's InfraSuite HDV and HED/HEV (EC fan) series precision cooling products successfully qualified for the list, earning government recognition. Delta is a leading global manufacturer of power supply and thermo management solutions.
With the advent of cloud and next-generation datacenters, the power density of datacenters is gradually increasing and thermo management is becoming more important. Selecting a highly-efficient cooling solution is the key to saving energy in datacenters. Thanks to Delta's industry-leading research and development capability, InfraSuite precision cooling products include outstanding features that can help customers build high-quality datacenter cooling solutions. These products solve datacenter heat dissipation problems for enterprises, support continuous operation of datacenter facilities, and at the same time bring the benefits of high efficiency, energy savings, high utilization and high flexibility to enterprises.
InfraSuite works well in a wide range of environments from regular equipment rooms to the high-density datacenters and can maximize the overall investment benefits for enterprises and operators. Delta's InfraSuite precision cooling products have been recognized by the industry for their advanced technical specs and eco-friendly features, and have been well received by customers at home and abroad. In China, Delta's InfraSuite precision cooling products have assisted many customers such as Nanjing University, Nanjing Forestry University, the State Intellectual Property Office, Shaanxi Broadcast & TV in building eco-friendly data centers. They are also broadly used in the datacenters of local financial and government institutes. Outside China, these products have been adopted by a major semiconductor manufacturer and are also utilized for reliable, eco-friendly and energy-saving datacenters in industries such as telecommunications and pharmaceuticals, as well as government agencies.
Since China's government implemented its energy-saving product procurement system in 2004, it has released 16 editions of itsenergy-saving product procurement list. Energy-saving products in the list have expanded from 1,000 in 8 categories to the current 40 thousand in 28 categories. In recent years, energy-saving products comprise more than 80% of the Chinese government's total procurement. The implementation of the government's mandatory and preference procurement policies affects industrial structures, promotes the development of the energy-saving industry, and enhances enterprise R&D, manufacturing, and sales of energy-saving products. With the guidance of the government's procurement list and Delta's comprehensive pre-sales and after-sales service system, more customers will enjoy the eco-friendly and energy-saving benefits brought by Delta's high-quality products.