2014.04.25
Delta Presents Green Datacenter Solutions at the 2014 Delta Datacenter Elite Forum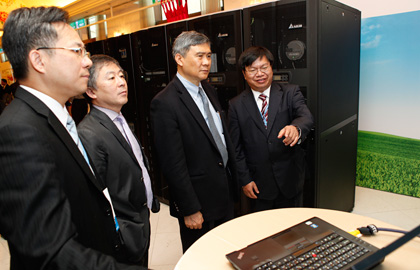 Delta's Mission Critical Infrastructure Solutions (MCIS) held the "2014 Delta Datacenter Elite Forum" on April 23, 2014. Nearly 300 industry professionals attended the forum. With the rapid development of information technology, the use of big data and cloud computing is bringing an explosive growth of data storage capacity requirements, and upgrading datacenters to meet their business needs has become an urgent issue for enterprises. MCIS's
InfraSuite Datacenter Solution
provides the most comprehensive products and services, and helps to upgrade and restructure datacenters around the world. InfraSuite's energy-efficient products and integrated solution services support enterprises in improving their datacenter infrastructure, achieving energy savings of over 25%, and making datacenter construction more environmentally-friendly and energy efficient.
"About 70% of Taiwan's IT datacenters are built by renovating old data rooms, with new datacenters accounting for 30%," said Mr. Yancey Hai, chairman of Delta Electronics in his opening speech at the forum. "Today, in pursuit of highly-efficient applications and services, a new generation of datacenter environment management has become an important consideration when enterprises reconstruct or build their datacenters. Since Delta launched the InfraSuite datacenter solution in 2012, customers have praised its high energy efficiency and there have been many successful applications worldwide. For instance, after one year of implementation of the InfraSuite Datacenter Solution, the PUE of Delta's Shanghai R&D Center has reached 1.43 – much better than the industry average."
Dr. Charles Tsai, general manager of Delta's MCIS, pointed out that corporate datacenters still remain as a major focus of IT investment. Currently, a main concern for IT managers is how to follow an information technology infrastructure upgrade, and resolve the issues of energy consumption, scalability and manageability. Delta's InfraSuite Datacenter Solution helps enterprises fully upgrade their datacenter infrastructure to meet current trends and it has an estimated 55% annual growth in implementation in Taiwan.
Dr. Rong-Jian Chen, datacenter director of National United University in Taiwan, also discussed his own experience in upgrading his university's datacenter with Delta's solution during the forum. In the past, National United University not only consumed serious amounts of energy, but its frequent downtimes were also a great challenge for its datacenter operations. After the deployment of Delta's InfraSuite Datacenter Solution, the energy utilization was greatly improved and data center reliability was effectively enhanced with a highly reliable power saving device, resulting in lower power consumption with a PUE below 1.6. Energy saving datacenters can reduce electricity costs enormously. A preliminary estimate is that in the initial stage, nearly US$100K of electricity costs can be saved annually, with carbon dioxide emissions reduced up to 598,400 kg. In addition to facilitating smooth information service operations within the National United University campus, Dr. Chen hopes the newly upgraded datacenter will develop diverse applications such as supplying data center resource hosting to enterprises in the future.
Delta's InfraSuite Data Center Solution was presented to the market to meet current technological and environmental requirements. Its modular design features high reliability along with optimized installation and operation costs, easy management, high flexibility, excellent efficiency, and scalability as data centers and enterprises develop. Delta's InfraSuite Datacenter Solutions' four modules: power management, rack and accessories, precision cooling and environment management system, provide one-stop services for datacenter infrastructure, ensuring greater reliability and availability.