2010.08.04
Delta delivers a UPS backup power solution for Russia's most modern data center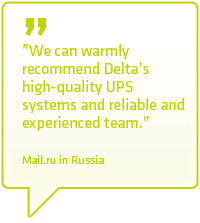 Mail.ru is the biggest internet service provider in Russia and the CIS countries. Its services are used by more than 50 million users each month. In 2008, the company decided to stop outsourcing its data center services and to build its own instead. The center consists of 12,400 HP blade servers installed in 428 racks, consuming over 2.1 megawatts of power. UPS is needed to guarantee uninterrupted service to keep millions of users online around the clock.

The customer preferred to use its own in-house resources in managing the data center project. Due to the high quality requirements and tight schedules of the project, Mail.ru had to find reliable, experienced partners. Delta was chosen as a turnkey supplier for the UPS system.

Delta's solution consisted of 12 Delta NT series 400 kVA UPS systems, 24 large battery cabinets, power distribution units, batteries, as well as four Cummins 1250 diesel generators supplied by Delta's partner, NG-Energo. Delta's professional services covered everything from project design consultation to testing and analysis. Delta implemented the project within four months from the customer's order, and the system delivery was accepted ahead of schedule. As one of Russia's largest and most modern data centers, the Mail.ru center is being used as a reference site for many new projects.

"Based on our experience in the data center project, we can warmly recommend Delta's high-quality UPS systems and reliable and experienced team to any data center project," said S. Karameshev, Technical Director at Mail.ru.