2016.08.16
Strengthen brand competitiveness by understand
Interview with Dr. Charles Tsai, General Manager of Delta MCIS BU
During October of last year, Delta's green data center was inaugurated in Wujiang. Designed and built by Delta's MCIS BU (Mission Critical Infrastructure Solutions Business Unit), it fully adopts Delta InfraSuite data center infrastructure solutions which aim for a gold level green data center rating (Power Usage Effectiveness (PUE) rating less than 1.3). With a minimum PUE at 1.27 for its the monthly average, the data center is the best example of how Delta is keeping its promise to decrease carbon emissions. Not only has it received excellent internal reviews, Delta InfraSuite data center infrastructure solutions have also continued to receive customer praise. The world's top three semiconductor manufacturers and many leading IC design corporations have effectively used the Delta InfraSuite solutions to build high density, energy efficient server rooms. General Manager of the MCIS BU Dr. Charles Tsai in this exclusive interview by the Brand Management Office shares his management strategies.
With the diversification of cloud applications, data center requirements from corporations are increasing each year. Based on the predictions of the latest Cisco® Global Cloud Index (2014-2019), by the year 2019 global data center traffic will triple from the current 3.4 ZB to 10.4 ZB (*1). With significantly increased usage, data centers will also have to be able satisfy other demands such as low power consumption and high efficiency to support a decrease in construction and operation costs for corporations.
*1: 10.4 ZB (Zettabyte) of traffic by 2019 is equivalent to sending approximately 2.4 hours of HD videos per day for every person in the world (It is estimated that the global population will reach 7.6 billion people by 2019).
Use resources efficiently, identify the market precisely
Data centers are a large part of mission critical infrastructure, and Dr. Tsai placed a strong emphasis on the words "mission critical", which implies the importance of data center equipment in terms of basic infrastructure. "The market for mission critical infrastructure is different in each country. Customers have different requirements for product specifications and safety certifications. We hope to optimize our resources, so selecting markets and customers are extremely important." To deal with the rapidly changing environment, Dr. Tsai has a clear management strategy.
Dr. Tsai has worked at Delta for over 20 years, and specialized in uninterruptible power supply (UPS) in the early years. With Delta's leading technologies and cost control capabilities in electronics, he established close relationships with customers and developed many business opportunities. As the market continued changing, Dr. Tsai observed that a single product and its cost is no longer the customer's primary concern. In 2008, with the support of the company, he chose to invest in the market of Data Center Infrastructure Solutions, actively expanding the product line and transforming it into a branded business. He targeted the mainstream power supply (50Hz) market, building a brand management team that started with the markets of Taiwan and Mainland China, gradually expending to India, Europe, Southeast Asia, and other regions. He is now preparing to enter the North American and Japanese markets. To effectively manage resources, Dr. Tsai chose to focus on the IT industry, providing solutions and services to corporations of different scales.
According to Dr. Tsai's analysis data center customers can be divided into several major categories: Small to medium size corporate users, large corporate group users and ".com" enterprises, such as Google, Facebook, Amazon, which will invest to build their own data centers. With the recent rise in cloud services, many businesses will consider the protection of confidential information and choose to develop their own data centers. However, since the construction and maintenance costs of a data center is quite high, 70% of companies still choose to rent data center space and equipment from colocation suppliers —also called IDC.
Solid experience led to successful brand transformation
"Every type of customer has different demands. It requires continuous communication as well as brand pull to build relationships." Dr. Tsai took colocation customers as an example, "Similar to the concept of renting real estate, it is a service to provide data center space and equipment to customers. The brand of equipment a data center uses is a key selling feature." To increase brand awareness, MCIS BU has actively participated in large scale exhibitions such CeBIT and DCW in recent years, as well as joining data center conferences in various regions. After Delta's acquisition of Eltek, MCIS BU took the opportunity to enter the telecom market through sales platform integration. With the telecom industry transforming from voice to data and IoT services, MCIS BU hopes to establish a competitive advantage in the market.
With technical expertise accumulated over his years dealing with customers, he developed Delta InfraSuite - Data Center Infrastructure Solutions. The solutions include a comprehensive product offering from power system, rack & accessories, precision cooling and environment management systems. With more and more successful cases, the brand is becoming well known. After sowing the seeds for the past few years, Delta has taken over 50% of Taiwan's data center market share as the undisputed champion. At the very beginning the market didn't recognize the brand, but today, customers immediately think of Delta when considering a data center project. This is the brand effect we hoped to achieve.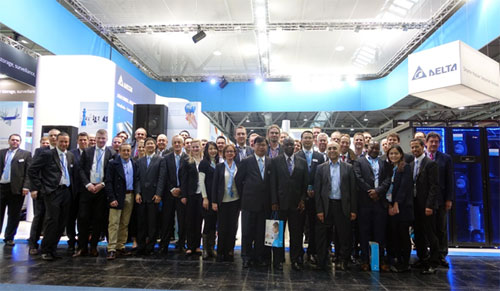 ▲ Delta MCIS BU participated in CeBIT at Hannover, Germany, exhibiting the Delta InfraSuite Data Center Infrastructure Solutions, which has received high praise from customers and the European media.
Discipline is the key - product design starts with demand
A clear business strategy has enabled MCIS BU's branded business to grow steadily over the years. Speaking about how they have developed competitive new products. New products developed by MCIS BU must pass stringent New Product Introduction (NPI) inspections. Dr. Tsai requests that team members need to clearly designate their targets and fully understand the requirements of customers, so that a clear strategy can be formed, targets can be established, and then discussing how to accomplish these goals. When talking about new products, Dr. Tsai confidently stated that "Customers are more concerned with product features and technological skills. With the new generation products developed following the NPI process, I believe we will have excellent results!"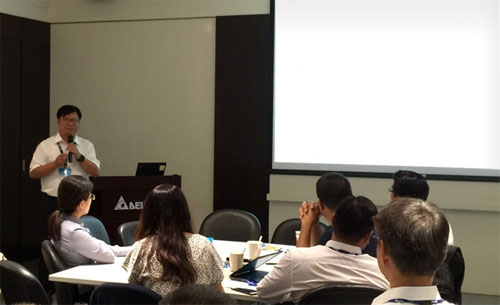 ▲ Dr. Tsai led the discussion of business strategy at Sales Summit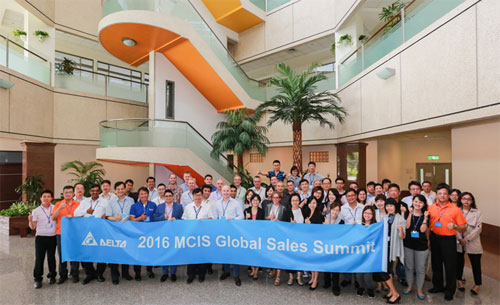 ▲ Delta MCIS BU team photo at the Global Sales Summit
Transforming to a branded business is filled with challenges. Dr. Tsai sets himself as an example, and hopes his team will continue to march forward towards success with patience and hard work. A brand can only become successful with a solid foundation.