2016.03.25
Delta Unveiled its 500kVA UPS with World's Highest Power per Module and 120kW RowCool for High-density Green Datacenters at CeBIT 2016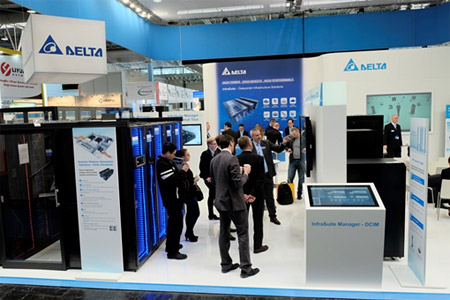 Delta's Mission Critical Infrastructure Solutions (MCIS) business unit is promoting its
InfraSuite Data Center Infrastructure Solutions
at datacenter tradeshows worldwide including CeBIT, Datacenterdynamic and Data Centre World.
Delta attended one of the world's most influential tradeshows for the IT industry, CeBIT 2016, in Hannover, Germany. Delta's EMEA (Europe, Middle East & Africa) and Mission Critical Infrastructure Solutions (MCIS) unveiled several new products including at this international stage: 1) the Modulon DPH series 500 kVA modular UPS that features both the world's highest power capacity and power density per module at 55kVA and 22.78W/in³ respectively, for significant opex and space savings; 2) the RowCool series with a unique 120kW sensible cooling capacity recently installed at one of the world's largest semiconductor firms; and 3) the brand-new Single Rack Datacenter (SRDC), an all-in-one micro solution for small high-density datacenters.
Delta's MCIS business unit develops solutions that ensure the maximum efficiency of mission critical applications. The high-quality highly integrated modular solutions demonstrated at CeBIT 2016 are part of Delta's InfraSuite Datacenter Infrastructure Solutions for the realization of high-performance green datacenters. They feature industry-leading energy efficiency, power capacity and cooling capacity.
The Modulon DPH series 500 kVA modular UPS features best-in-class power capacity and power density per module that is the highest in the world, enabling lower operation costs and up to 50% space savings when compared with the similar models of competitors. Its industry-leading AC-AC efficiency is higher than 96% allowing for substantial energy savings.
The unique RowCool series 120kW also achieves substantial energy savings in high-density datacenters. The system delivers an impressive air flow of more than 20,300 CMH with embedded variable fan speed technology to reduce electricity consumption.
Delta's EMEA and MCIS teams hosted a partner event at CeBIT with 30 partners from Europe, the Middle East Africa, and Russia to promote Delta MCIS's capabilities. By visiting the Delta booth, partners gained a thorough understanding of Delta MCIS's full range solutions as well as its technology leading position. Partners also had the opportunity to experience Delta's modular datacenter with hot-aisle containment. Delta MCIS presented its achievements in achieving cost and energy savings for datacenters. The partner event was a remarkable platform for both partners and Delta to discuss EMEA market trends and to explore further business opportunities for datacenters and UPS solutions. Delta also generated hundreds of leads during the exhibition period.
Around 15 journalists from several European IT magazines attended Delta's press conference on MCIS solutions, and interviewed Dr. Charles Tsai, Delta MCIS' general manager and Peter Bigler, Delta MCIS EMEA sales head. The resulting media reports praised the exhibited solutions and the company's approach to enhancing the energy efficiency and reliability of mission critical applications all over the world.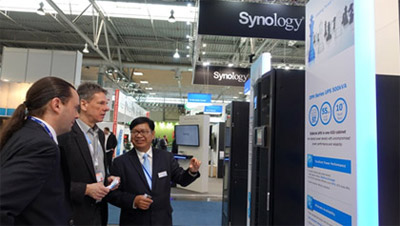 ▲ MCIS BU head, Charles Tsai (right) and Delta EMEA Marketing Manager, Andreas Schmidt (left) introduced the DPH 500kVA UPS to German IT magazine Lanline's Chief Editor, Dr. Jörg Schröper, (middle).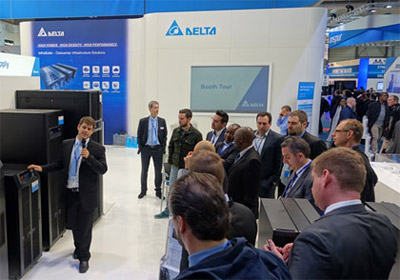 ▲ Delta MCIS South Africa Sales Manager, Ross Peringuey, hosted a booth tour to demonstrate the Delta's state-of-the-art UPS solutions.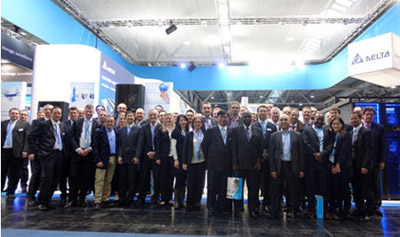 ▲ Group Photo, Delta and EMEA partners at Delta's booth at CeBIT 2016.