2016.01.04
Delta N 1-3kVA Series UPS Wins the IT168 Annual Product Award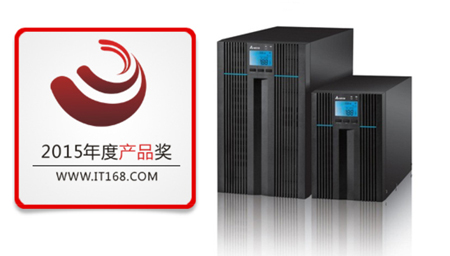 The all new
Delta N 1-3 kVA series
fractional UPS has just won the "2015 Outstanding Technology Award" presented by IT168. Made by Delta Electronics, the global leading global manufacturer of power management and thermal solutions, the UPS was selected for the annual product prize from among tens of thousands of products for its high availability, environmentally-friendly and smart management design.
IT168 cited Delta's consistent technology and quality in the N 1-3 kVA series fractional UPS, which provides an outstanding and reliable power utilization environment. Winning recognition in China for energy saving, environmental protection and low management costs Delta provides excellent UPS solutions for customers.
The Amplon N1-3kVA series are single-phase UPS systems with online double-conversion topology that provide a stable and reliable sine-wave power supply. Its leading product advantages, such as an output power factor of 0.9 and AC-AC efficiency up to 93%, add value to a customer's business operations. These features not only provide secure power protection for a customer's mission critical devices, but also lower their operating costs. The LCD panel used in the Amplon N1-3kVA series offers a straightforward display and easier management. The compact design creates a smaller footprint, saving more space for mission critical applications such as workstations, POS, ATMs and medical equipment.
Featuring the high reliability, outstanding functionality, and excellent overall efficiency of Delta-made UPS products, the N 1-3kVA series has three other core advantages:
High Availability
Delta's N1-3kVA series applies the most advanced Digital Signal Processor (DSP) technology, which features fast computation capability and enables a reduction in the number of electronic components to lower the failure rate. Its wide input voltage range allows the UPS to operate in harsh electrical environments. The generator compatibility ensures continuous and reliable power. In addition, the online double-conversion technology protects critical loads from power problems occurring on the source side, and the zero transfer time to battery effectively ensures the stability of load operations during a power outage.
Green & Low TCO
Aiming to achieve better power performance, the N1-3kVA features an overall AC-AC efficiency of up to 93%, which even at light loads of 50% efficiency can reach up to 91%. In addition, its 0.9 output power factor enables the UPS to provide more wattage to critical loads. Its low harmonic pollution (iTHD <3%) and high input power factor (pf>0.99) improve energy utilization and save user investments on upstream equipment. The compact design of the N1-3kVA makes a footprint at least 33% smaller than competing products.
Smart Management Solution
The N1-3kVA Series is equipped with a user-friendly LCD screen that ensures a clear display and easy management. Its smart management and communication features, along with Delta's UPS management software UPSentry and ShutdownAgent, allow users to easily implement remote monitoring and administration. Sophisticated battery management features are built-in, including: battery temperature compensation, overcharge protection, smart adjustment for the end-of-discharge voltage, float/boost 2 phase charging designs, and more. All of these features help improve battery life and battery performance, and its smart design brings an easier and more convenient user experience.
Due to excellent product performance and the best technology standards, the N 1-3kVA UPS series has been highly recommended by the industry and its users since its release. Its outstanding quality has been proven in many major applications. For example, it provides production line power supply protection for a major facility manufacturer, and was chosen by a new well-known domestic energy enterprise to provide power back-up for its reservoir control system. The outstanding reliability and environmentally-friendly design of the N 1-3kVA series UPS have been widely recognized by users.
As the most influential IT online media in China, the IT168 is the only domestic media that has its own independent appraisal system. During the competition for the "2015 Outstanding Technology Award", the IT168 conducted many performance evaluations and tests on market purchase, public attention, user recognition and promotion of related categories among similar products. By winning the best annual product with the "Outstanding Technology Award", Delta's N 1-3kVA series UPS has once again demonstrated Delta's leadership in the field of power management.